Important Notice! Please take into account that CNH etimGo requires at least 100 Gb of free HDD space for its installation files. Moreover up to 250 Gb of free HDD space is additionally required if you planning to install all brands. Not all the brands can be installed simultaneously, you can dynamically install necessary brands or their models/series data which is even more convenient in the case of small HDD/SSD volume.
Depending on the particular model there will be all the manuals, bulletins electrical diagrams and diagnostic procedures, or even parts catalogs (if you are interested in a specific model or series – ask us, we will check its availability).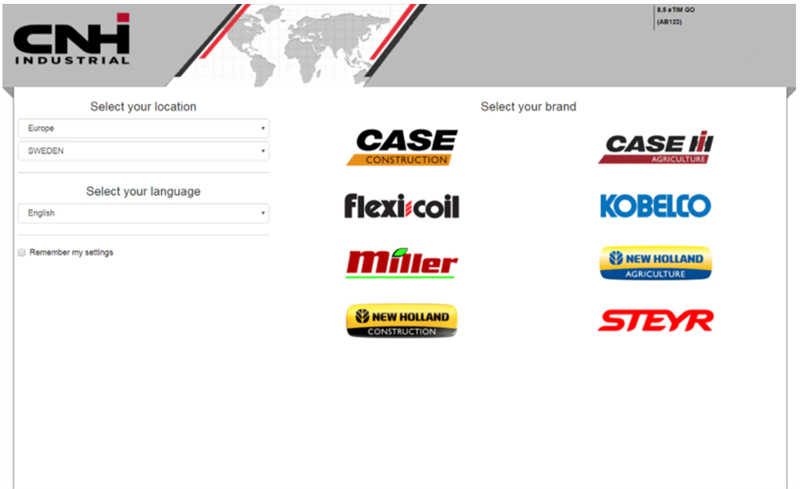 eTIM GO offline document access: (For some model series this information may be incomplete, it's getting updated from time to time. This is how the application works, please ask for particular model series info if it's very important for you).
– Falt Code Resolutions
– Wiring Schematics
– Complete Service Manuals
– Installation instructions
– Operator's manual
– Knowledge Articles
– Service Bulletin
– Standard Repair Time
Each brand contains the following tabs:
– Dashboard
– Product
– Document
– Search
You can easily navigate the tabs looking for the information and data you need
Feactures:
General
Operating
Calibration
Funtional Data
Service
Capacities
Technical Data
Wiring Information
Service manual
Operator's Manual
Knowledge Articles
Bulletin
Installation Instructions
Maintenance
Standard Repair Time
Supporting all the models. Works offline.
Case Construction CE
Case Agriculture IH
Flexicoil
Miller
New Holland Construction CE
New Holland Agriculture AG
Kobelco
Styer
Case Agriculture
Document:
Knowledge Articles
Bulletin
Installation Instructions
Product
Balers
– Round Balers:
3000
3400
8400
Fixed Chamber
RBX1
RS1
Variable Chamber
– Square Balers:
8500 Large
8500 Small
LB2
Large
Large LB series
Small
Crop Production Equipment
Applicator:
Flex-Air™ 810
Liquid System 610
Fertilizer Applicator:
NPX2800
NTX5310
Nutri-Placer 2800
Nutri-Placer 5300
Nutri-Placer 920
Nutri-Placer 930
Nutri-Placer 940
Nutri-Tiller 5310
Nutri-Tiller 950
Nutri-Tiller 955
Floater:
FLX3010
FLX3020
FLX3510
FLX3520
FLX4010
FLX4020
FLX4520
Titan™ 3020
Titan™ 3030
Titan™ 3040
Titan™ 3520
Titan™ 3530
Titan™ 3540
Titan™ 4020
Titan™ 4030
Titan™ 4040
Titan™ 4520
Titan™ 4530
Titan™ 4540
Patriot® Series:
Patriot® 2240
Patriot® 2250
Patriot® 3230
Patriot® 3240
Patriot® 3330
Patriot® 3340
Patriot® 4420
Patriot® 4430
Patriot® 4440
SPX:
SPX 2130 Patriot®
SPX 3150 Patriot®
SPX 3185 Patriot®
SPX 3210 Patriot®
SPX 3310 Patriot®
SPX 3320 Patriot®
SPX 4260 Patriot®
SPX 4420 Patriot®
Trident™ Series:
Trident™ 5550 Combo Applicator
Dealer Operating Guide
Dryland and Row Crop Products
– Air Carts
ADX:
ADX2180
ADX2230
ADX3260
ADX3360
ADX3380
ADX3430
Concord:
1002
1100
1124
1502
1802
2300
2400
3400
3503
Precision Air® 5 Series Air Carts:
Precision Air™ 2355
Precision Air™ 3445
Precision Air™ 3555
Precision Air™ 3725
Precision Air™ 3915
Precision Air™ 4465
Precision Air™ 4585
Precision Air™ 4765
Precision Air™ 4955
Precision Air™ Series Air Carts:
Precision Air™ 2230
Precision Air™ 2280
Precision Air™ 2330
Precision Air™ 3380
Precision Air™ 3430
Precision Air™ 3580
– Planting and Seeding Equipment
ATX:
ATX3010
ATX3212
ATX3310
ATX3612
ATX4010
ATX4012
ATX4710
ATX4812
ATX5010
ATX5012
ATX6012
Concord Drill:
2010
2012
2310
2412
2710
2812
3010
3212
3310
3612
4010
4012
4710
4812
5010
5012
6012
Cyclo Air®:
400 Cyclo Air®
500 Cyclo Air®
800 Cyclo Air®
900 Cyclo Air®
900 Cyclo Air® Toolbar
950 Cyclo Air®
955 Cyclo Air®
Early Riser®:
Early Riser® 1210
Early Riser® 1215
Early Riser® 1220
Early Riser® 1225
Early Riser® 1230
Early Riser® 1235
Early Riser® 1240
Early Riser® 1245
Early Riser® 1250
Early Riser® 1250
Early Riser® 1255
Early Riser® 1260
Early Riser® 1265
Early Riser® 2130
Early Riser® 2140
Early Riser® 2150
Early Riser® 2160
Grain Drill:
5300
5400
5400
5400
5400
5400
5500
5500
Planters:
1200 Mounted Rigid
1200 Mounted Stacker
1200 Pivot-Transport
1200 Trailing Rigid
1240
ASM1213
ASM1224
Plate Planter:
800
900
Seeding:
8500
8600
ATX400
ATX700
Concord Air Till
Flex Hoe™ 900
Flex Hoe™ 400
Flex Hoe™ 700
Precision Disk™ 30
Precision Disk™ 40
Precision Disk™ 500
Precision Disk™ 500DS
Precision Disk™ 500T
Precision Hoe™ 800
SDX30
SDX40
Sfoggia:
CV40R
CV50R
CV60R
CV60T
DD40R
DD60R
DV12R
DV40R
DV60R
DV60T
DV90R
Tillage and Seeding Cart:
5000
6100
6800
Twin-Row:
1225AFF
1625AFF
4025A3PS
825A3PM
– Sprayers
Precision Spray:
Precision Spray 100
Precision Spray 160
SPX:
SPX3150
SPX3200
SPX3310
SPX3320
SPX4410
SRX:
SRX100
SRX160
– Tillage
Chisel Plow:
5600
5700
5800
5850
6700
6750
Conser-Till® 6500
Conser-Till® 6650
Ecolo-Champ Coulter Chisel
Ecolo-Champ Parabolic Chisel
PTX300
VS640
Cultivator / Precision Tillage:
4300
4500
4600
4700
4800
4900
Flex Till 600
PTX600
Tiger-Mate® II
Cultivator and Combo:
4200
4400
4450
Tiger-Mate® 200
Tiger-Mate® 255
Moldboard Plow:
145
165
7500
800
Offset Disc Harrow:
Heavy Offset 790
Ripper:
10
14
6810
6814
Conser-Till® 690
Ecolo-Tiger® 527B
Ecolo-Tiger® 530C
Ecolo-Tiger® 730B
Ecolo-Tiger® 730C
Ecolo-Tiger® 870
Ecolo-Tiger® 875
Ecolo-Tiger® 9300
Ecolo-Til® 2500
Ripper:
10
14
6810
6814
Conser-Till® 690
Ecolo-Tiger® 527B
Ecolo-Tiger® 530C
Ecolo-Tiger® 730B
Ecolo-Tiger® 730C
Ecolo-Tiger® 870
Ecolo-Tiger® 875
Ecolo-Tiger® 9300
Ecolo-Til® 2500
Row Crop Cultivator:
1820
1830
2220
2240
STRIP-TIL:
NTX5300
Seed Bed Prep:
568
Crumbler
Crumbler® 110
Crumbler® 160
P/T Crumbler
Speed-Tiller™:
465
475
Tandem Disc Harrow:
3800
3850
3900
3950
475
485
496
501
596
770
780
RMX330
RMX340
RMX370
RMX790
True-Tandem™ 330 Turbo
True-Tandem™ 340
True-Tandem™ 345
True-Tandem™ 370
True-Tandem™ 375
Vertical Tillage:
True-Tandem™ 330 Turbo
True-Tandem™ 335 Barracuda
True-Tandem™ 335VT
Precision Farming
Application Systems
Connectivity and Corrections
Display Systems
Guidance Systems
Harvesting Systems
Forage Equipment
– Attachment
Forage 600 Blower
– Headers
HDX
HDX10P
HDX20P
HDX3R
– Pull-Type Forage Harvesters
8700 Series
8725 HFI
8730 HFI
8750 HFI
FHX300
– Self-Propelled Forage Harvesters
CHX
CHX320
CHX420
CHX520
CHX620
Harvesting Equipment
– Attachment:
Track
Combine Track
– Axial Rotary Combines:
1400 Series
1600 Series
2100 Series
2500 Series
AXIAL-FLOW® 10 Series
AXIAL-FLOW® 20 Series
AXIAL-FLOW® 30 Series
AXIAL-FLOW® 40 Series
AXIAL-FLOW® 50 Series
AXIAL-FLOW® 88 Series
– Coffee:
Self-Propelled Harvesters
Coffee Express 200
– Conventional Combines:
15 Series
CF Series
CT Series
– Cotton Pickers:
1800
2000
700
Express
– Headers:
1000 Series Corn Header
2000 Series Grain Header
2100 Series Draper Headers
2200 Series Corn Header
2400 Series Corn Header
2600 Series Corn Header
3000 Series Grain Header
3100 Series Draper Headers
3200 Series Corn Header
3400 Series Corn Header
4200 Series Corn Headers
4400 Series Corn Headers
4R-4F Series Draper Headers
800 Series Grain Header
900 Series Corn Header
Draper
Grain Header
Pick-up
– Sugar Cane:
Harvester
6000
7000
7700
8000
8010
8800
8810
AUSTOFT 9900
Hay Tools
– Accessories:
Bale Accumulator
Bale Processor
Bale Wrapper
Merger
– Mower Conditioners:
8300 Series Disc
8300 Series Sickle
DC500 Series Disc
Disc
SC400 Series Sickle
– Mowers:
3200 Series Disc
Disc
Sicklebar
– Other Hay Equipment:
Bale Thrower
Grinder Mixer
Manure Spreaders
Pull Type Merger
Wheel Rake
– Self-Propelled Windrowers:
6000 Series
8800 Series
WD3 Series
WD3 Series II
WD4 Series
WDX1 Series
WDX2 series
Windrow Merger Attachment
– Sicklebar and Disc Heads:
Disc Header
Draper
Sicklebar
Legacy
– Accessories:
Anthony Truck Bodies
DMI TRUCK BUMPERS
– Agricultural Tractors:
1200 4WD TRACTOR
1200TK CASE LATE 1960'S 4WD TRACTION KING FARM TRACTOR
– Attachment:
DMI DUAL WHEELS
DMI GRAIN WAGON
– Compact Tractors:
CUB SERIES TRACTOR
CUB IH CUB TRACTOR
– Cotton Pickers:
COTTON PICKER CE
630 COTTON EXPRESS PICKER
– Diagnostic Tools:
CEST and PDA
CIHPDA CaseIH PDA Tool
– Display Systems:
AFS PRECISION FARMING
AFS_EZ_BOOM SPRAY CONTROLLER CASE IH
AFS_RECON_FIELD_MAP REMOTE MAPPING SYSTEM
EZ-Guide® 500
FlexCommand 7
– Guidance Systems:
AFS GUIDANCE SYSTEM
AFS PRECISION FARMING
– LEGACY
– Loaders:
L SERIES FARM LOADER
L5 SERIES FARM LOADER
SV Series Farm Loader
– Round Balers:
RB SERIES 5 ROUND BALER
RB555 CIH ROUND BALER
– Sprayers:
PATRIOT SPRAYER
PATRIOT_NT TYLER SPRAYER
PATRIOT_WT TYLER WIDE TRAX SPRAYER
PATRIOT_XL TYLER SPRAYER
Light Equipment
Skid Steer Loaders
400:
410
420
420CT
425
430
435
440
440CT
445
445CT
450
450CT
465
465CT
Alpha Series Compact Track Loaders:
TR270
TR310
TR320
TR340
TV370
TV380
TV450
Alpha Series Skid Steer Loaders:
SR130
SR150
SR160
SR175
SR200
SR210
SR220
SR240
SR250
SR270
SV185
SV250
SV280
SV300
SV340
B Series Compact Track Loaders:
TR270B
TR310B
TR340B
TV370B
TV450B
B Series Skid Steer Loaders:
SR130B
SR160B
SR175B
SR210B
SR240B
SR270B
SV185B
SV280B
SV340B
XT:
40XT
60XT
70XT
75XT
85XT
90XT
95XT
Power units
– 4.5L Power Units:
100A
120A
150A
170A
– 6.7L Power Units:
175A
205A
245A
285A
– Irrigation Power Unit:
4390
4390T
4391
4391T
4391TA
6590
6590T
6590TA
6591
6591T
6591TA
6830T
6830TA
6831T
6831TA
– P Series:
P110
P140
P170
P215
P240
P70
P85
PX215
PX240
– RP Series:
RP110
RP135
RP165
RP65
RP85
RPZ125
RPZ145
RPZ65
RPZ85
Rearing Livestock and Loaders
– Loaders
Farm Loader:
2200
2250
2255
2350
2355
510
520
710
890
LRX1095
LRX1100
LRX1120
LRX1130
L:
L103
L104
L105
L106
L107
L108
L130
L160
L340
L340A
L350
L350A
L360
L360A
L530
L540
L545
L550
L555
L560
L565
L570
L575
L580
L590
L620
L630
L720
L725
L730
L735
L745
L755
L765
L775
L785
L790
L795
LX:
LX 110
LX 112
LX 114
LX 116
LX 118
LX 132
LX 146
LX 156
LX 162
LX 172
LX 192
LX 232
LX 252
LX 330
LX 340
LX 350
LX 360
LX 720
LX 740
LX 750
LX 760
LX 770
LX 780
Service and Diagnostic Tools
– Diagnostic Tools
Case IH Electronic Tools:
Electronic Service Tool (EST)
Remote Service Tool (RST)
Electronic Service Tool (EST) Additional Tools:
Cummins® INSITE®
EASy Engine Diagnostic Tool
Grammer® Seat Diagnostic Tool
IHI SHIBAURA Electronic Service Tool D
IHI SHIBAURA Electronic Service Tool I
LS MTRON Diagnostic Tool
PLUS+1® Diagnostic Tool
Raven Service Tool
Tractors
– Agricultural Tractors
9100 Series
9200 Series
9300 Series
CS – Tier 1 and Stage I
CS – Tier 2 and Stage II
CS Pro – TIER 2 and STAGE II / TIER 3 and STAGE IIIA
CVX
FARMALL®
FARMALL® A
FARMALL® U – TIER 3 and STAGE IIIA
FARMALL® U – TIER 4B (FINAL)
FARMALL® U Efficient Power – TIER 4A (INTERIM) and STAGE IIIB
Farmall® 26 Series
Farmall® 56 Series
Farmall® 66 Series
Farmall® 68 Series
Farmall® 86 Series
International Harvester 06 Series
International Harvester 2+2 Series
International Harvester 30 (88) Series
International Harvester 4WD
International Harvester 50 (88) Series
International Harvester Farmall®
I. Case 30 Series
I. Case 70 Series
I. Case 90 Series
I. Case 94 Series
JX
JX HC
JXU – TIER 1 and STAGE I
JXU – TIER 2 and STAGE II
MAGNUM™
MAGNUM™ AFS Connect™
MAGNUM™ Rowtrac™
MAGNUM™ Rowtrac™ AFS Connect™
MAXXUM®
MAXXUM® – TIER 3 and STAGE IIIA
MAXXUM® – TIER 4A (INTERIM) and STAGE IIIB
MAXXUM® – TIER 4B (FINAL) and STAGE IV / STAGE V
MAXXUM® CVT – TIER 4A (INTERIM) and STAGE IIIB
MAXXUM® CVT – TIER 4B (FINAL) and STAGE IV
MAXXUM® CVX – TIER 4B (FINAL) and STAGE IV / STAGE V
MX MAGNUM™
MXC
MXM
MXU
OPTUM® CVT – TIER 4B (FINAL) and STAGE IV
OPTUM® CVX – TIER 4B (FINAL) and STAGE IV / STAGE V
PUMA® – TIER 4B (FINAL) and STAGE IV / STAGE V
PUMA® 115-160 – TIER 3 and STAGE IIIA / TIER 4A (INTERIM) and STAGE IIIB
PUMA® 165-215 – TIER 3 and STAGE IIIA / TIER 4A (INTERIM) and STAGE IIIB
PUMA® CVT – TIER 4B (FINAL) and STAGE IV
PUMA® CVT 130-160 – TIER 4A (INTERIM) and STAGE IIIB
PUMA® CVT 165-230 – TIER 3 and STAGE IIIA / TIER 4A (INTERIM) and STAGE IIIB
PUMA® CVX – TIER 4B (FINAL) and STAGE IV / STAGE V
PUMA® Series
STEIGER®
STEIGER® AFS Connect™
STX STEIGER®
Steiger® 1000 Series
Steiger® Industrial
Steiger® Series III
Steiger® Series IV
VESTRUM® CVX
– Attachment
Backhoe
Front Blade
Mower Deck
Rotary Broom
Rotary Tiller
Snow Blower
Utility Dig
– Compact Tractors
1100 Series
200 Series
CS
Cub
DX
DX/D
FARMALL®
FARMALL® A
FARMALL® B
FARMALL® C
– Specialty Tractors
FARMALL® N – TIER 3
FARMALL® N – TIER 4A (INTERIM)
FARMALL® V – TIER 3
FARMALL® V – TIER 4A (INTERIM)
JXN – TIER 2 and STAGE II
JXV – TIER 2 and STAGE II
– Utility Tractors
3200 Series
4200 Series
44 Series
64 Series
74 Series
84 Series
85 Series
90 Series
95 Series
C Series
CX Series
David Brown
FARMALL® A
FARMALL® C – TIER 3
FARMALL® C Efficient Power – TIER 4A (INTERIM) and STAGE IIIB
FARMALL® C Efficient Power – TIER 4B (FINAL) and STAGE IV / STAGE V
I. Case 94 Series
JXC – TIER 2 and STAGE II
JXC – TIER3
JXU®
UTV
Case Construction
New Holland Construction

Document:
Service Manual
Operator's Manual
Knowledge Articles
Bulletin
Maintenance
Installation Instructions
Wiring Information
Standard Repair Time
Product:
Attachments
Hydraulic Breaker:
CB Series
CB 120
CB 150
CB 18
CB 200
CB 240
CB 260
CB 27
CB 290
CB 32
CB 320
CB 37
CB 370
CB 400
CB 45
CB 470
CB 550
CB 65
CB 700
CB 85
CB 90
DEALER POLICY MANUAL
Heavy Equipment
– Articulated Dump Trucks
AD:
AD250
AD300
– Crawler Dozers
D:
D150
D180
D180LP
D180LT
D180XL
D255
D350
D75
D85
D95
D TIER III:
D150B
D180B
D75B
D85B
D95B
DC:
DC100
DC150
DC150LGP
DC150LT
DC150PS
DC180LGP
DC180LT
DC180PS
DC180XLT
DC70
DC75
DC80
DC85
DC95
B:
B
B
Fiat:
FD10E
FD145
FD14E
FD175
FD7
FD80
– Crawler Excavators
E:
E09SR
E130
E15
E160
E18BSR
E200SR
E215
E27
E27BSR
E30
E30BSR
E35
E35BSR
E50
E50BSR
EB:
E135B
E145B
E150B
E175B
E225B
E235BB
EC:
E215C EVO
E245C EVO
EC130
EC160
EC215
EC240
EC270
EC350
EC450
EC600
EH:
EH130
EH160
EH215
EH35
EH70
EH80
Fiat FX:
FH200
FX140
FX200
FX210
FX240
FX270
FX310
FX350
FX480
FX600
– Crawler Loaders
Fiat FL:
FL10E
FL145
FL175
FL7
– Motor Grader
Fiat Motor Grader:
65B
FG105
FG170
FG65C
FG70
FG75
FG85
FG95
G Series:
140
170
200
200 B
RG:
RG100
RG140
RG170
RG200
RG80
– Wheel Loaders
B:
12B
D:
12D
12D EVO
Fiat FR:
FR10ZF
2
FR12B
FR130
2
2
FR15
FR15B
FR160
2
2
FR20B
FR220
2
Fiat FW:
FW140
FW160
FW200
LW:
LW110
LW130
LW170
LW190
LW230
LW270
B:
LW110 B
LW130 B
B
LW190 B
LW270 B
W:
W110
W130
W170
W190
W230
W270
W B:
W110B
W130B
W170B
W190B
W230B
W270B
W C:
W110C
W130C
W130C Tier3
W170C
W170C Tier3
W190C
W190C Tier3
W230C
W270C
W300C
W E:
W200E
WC T4B NA:
W110C
W130C
W170C
W190C
W230C
WD:
W130D
W170D
– Wheeled Excavators
EW:
EW160
EW200
EW220
MH TIER 2:
6
6
6
MHCITY
MHPLUS
MHPLUSC
MH TIER 3:
MH 5.6
MH 6.6
MH 8.6
MH CITY
MH PLUS
6
Legacy
– Industrial
1801
2130
4130
4140
A62
A64
A66
– LEGACY
– Wheel Loaders
B
945B
Light Equipment
– Backhoe Loaders
55B
A
B
B Series
B
C
C
D
E
FB
FT
LB
B
– Compact Wheel Loaders
L
LW
LW B
W
WB
WC STAGE V
WC TIER 4
– Compactors
CV
CV1100
CV1500
CV2000
CV2500
CV700
CV900
– Loader Tractors
D
MINI LV
– Midi Excavators
EBSR
ESR
– Mini Excavators
E
EC
EH
B SERIES
E_B SERIES
E_C SERIES
– Skid Steer Loaders
100 Series Compact Track Loaders
100 Series Skid Steer Loaders
200 Series Compact Track Loaders
200 Series Skid Steer Loaders
300 Series Compact Track Loaders
300 Series Skid Steer Loaders
CL
L
L200
L300
L400
L500
L600
L700
L800
L900
LS and LT Series
– Telescopic Handlers
LM
M300
M400
M500
– Tractors
Loader
Utility
Precision Construction
– Connectivity and Corrections
Modems
QUAKE™ Q-Pro Satellite Modem
– Telematics
FleetForce™
FleetForce™ 2D & 3D Display
FleetForce™ CCXX
FleetForce™ External Sensors
FleetForce™ GPS
FleetForce™ Laser Level
FleetForce™ Telematics
Service and Diagnostic Tools
– Diagnostic Tools
Electronic Service Tool (EST) Additional Tools
New Holland Construction Electronic Tools

New Holland Agriculture

Document:
Service Manual
Knowledge Articles
Bulletin
Installation Instructions
Product:
Balers
Round Balers:
600 Series
800 Series
BR700 Series
BR700A Series
Fixed Chamber
Variable Chamber
Square Balers:
1200 Series
200 Series
300 Series
400 Series
4000 Series Large
500 Series Small
590 Series Large
60 Series
70 Series
80 Series
90 Series
D1000 Series
D1200 Series
D700 Series
Large BB series
Large BigBaler series NA
Small
DEALER POLICY MANUAL
Dryland and Row Crop Products
Air Carts:
P Series Air Carts
SC
Seed Treatment Unit
Harrow and Packers:
SG
SG110
SG120
SG130
SG320
Planting and Seeding Equipment:
Land master
SP Planter
Seeding
Sol TT
Sprayer attachments:
Dry box
Liquid system
Tool Bar
Sprayers:
100 Series
Guardian™ Combo
Guardian™ front boom
Guardian™ rear boom
S
SF
Tillage:
Chisel Plow
Cultivator / Precision Tillage
Ripper
Rotavator
Tandem Disc Harrow
Precision Farming
Application Systems
Connectivity and Corrections
Display Systems
Guidance Systems
Harvesting Systems
Forage equipment
– Attachment
Forage Blower:
F62B
Leaf Loader:
710
– Headers
Direct Cut:
570 FW
600FDF
600FDR
600FDR HD
DC510
Pick-up:
270FP
27P WINDROW PICK-UP
280FP
290FP
29P WINDROW PICK-UP
300FP
345W
346W
355W
356W
360W5
365W
366W
380FP
Row Independent:
420 FI
430 FI
440 FI
440 FI
450 FI
450 FI
450BFI
450SFI
470 FI
470 FI
480 FI
490 FI
490 FI
600BFI
600SFI
750BFI
750SFI
900BFI
900SFI
RI450
RI600
Willow Header:
130 FB
– Pull-Type Forage Harvesters
FP:
FP230
FP240
– Self-Propelled Forage Harvesters
15:
1915
2115
FR:
FR450
FR500
FR600
FR700
FR850
FX:
9630
9640
9645
FX25
FX28
FX30
FX300
FX38
FX40
FX45
FX450
FX48
FX50
FX58
FX60
RI450
RI600
Harvesting Equipment
– Conventional Combines
1400
1500
CX:
CX720
CX740
CX760
CX780
CX820
CX840
CX860
CX880
TF:
TF42
TF44
TF46
TF76
TF78
TX:
TX34
TX36
TX62
TX63
TX64
TX65
TX66
TX67
TX68
– Flagship Conventional Combines
8000 Series:
8050
8055
8060
8070
8080
CX Harvest Suite Ultra Cab:
80
90
CX8000 Elevation:
CX8080 Elevation
CX8090 Elevation
CX8000 series TIER 3:
CX8030
CX8040
CX8050
CX8060
CX8070
CX8080
CX8090
CX8000 series Tier IV:
CX8070
CX8080
CX8090
– Flagship Rotary Combines
CR Harvest Suite Ultra Cab:
90
90 Revelation
80
90
90 Revelation
80 Revelation
90
90 Revelation
90
90 Revelation
90
90 Revelation
CR Series Tier IV:
CR6090
CR7090
CR8080
CR8090
CR9090
– Grape Harvesters
9000 L
9000 M
9000 X
Braud SB
Compact TIER 4B
Extra High Capacity TIER 4B
High Capacity TIER 4B
Narrow TIER 4B
Sorting systems
VL 5000 PLUS
VL 600
VL 6000
VM 300
VM 3000 PLUS
VM 4000
VN 200
VN 2000
VN 300
VX 600
– Headers
7200 Grain Header
72C Grain Header
74C Grain Header
800C Grain Header
8200 Rigid Draper Header
8600 Flex Draper Header
88C Draper Header
92C Draper
962 Series Corn Header
96C Corn Header
980C Corn Headers
98C Corn Header
98D Corn Header
996 Series Corn Header
99C Chopping Corn Header
CORNROWER™
CornMaster™ 9200 Series Corn Header
Draper
Draper Headers
Extra-capacity grain header
Grain Header
Maize Header
Pick Up
– Rotary Combines
CR Model Year 2016
CR series Tier III
CR9000 Tier III
TR
– Utility Combines
CS
CS6000
TC
TC5000
Hay Tools
– Accessories
Adapter TV140:
2300BF
2330BF
Bale Wrapper:
B27P
B37P
Merger
– Mower Conditioners
100 Series Sickle:
116 Haybine®
1400 Series Disc:
1442
400 Series Disc:
408
411
412
415
400 Series Sickle:
460 Haybine®
461 Haybine®
469 Haybine®
474 Haybine®
477
477 Haybine®
478
479
489 Haybine®
490 Haybine®
492 Haybine®
495 Haybine®
Disc:
1409
1410
1411
1412
1431
1432
1441
1442
1465
488
DiscCutter™ L 320 S
Discbine® 209
Discbine® 210
Discbine® 310
Discbine® 312
Discbine® 313
Discbine® 316
H7220
H7230
H7320
H7330
H7450
H7460
H7550
H7560
HM234
HM235
HS14
HS16
HS18
MC28
MC35
MegaCutter™ 512
MegaCutter™ 530
MegaCutter™ 533
Sicklebar:
1465
472
488
499
H7150
– Mowers
400 Series Sickle:
451
456
Disc:
615
616
617
914
DuraDisc™ 107M
DuraDisc™ 108M
DuraDisc™ 109M
DuraDisc™ 112 Plus
DuraDisc™ 113 Plus
DuraDisc™ 210M
G4010
G4020
G4030
G4035
G4050
G5030
G6030
G6035
H6730
H6740
H6750
H6830
HM234
HM235
HM236
MY16
MY17
MY19
MZ14H
MZ16H
MZ17H
MZ18H
MZ19H
MegaCutter™ 510
MegaCutter™ 531
– Others Hey Equipment
Bale Thrower:
49
50
51
51A
52
53
53A
54
54B
58
61
62
70
72
75
77
Bale Wagon:
1000
1002
1003
1010
1012
1030
1032
1034
1036
1037
1038
1063
1068
1069
1075
1078
1079
1085
1089
1095
BW28
BW38
H9870
H9880
Stackcruiser® 102
Stackcruiser® 103
Stackcruiser® 105
Basket Rakes:
216
252
256
258
259 Rolabar
260
55 Rolabar
57
Rolabar® 230
Grinder Mixer:
340
350
351
352
353
354
355
357
358
359
Manure Spreaders:
130
135
145
155
165
185
190
195
213
304
305
306
308
3102
3106
3110
3114
3118
329
425V
512
513
514
518
519
520
550V
675S
676
679
680
790
791
795
800
DuraTank 2000S
DuraTank 2600S
DuraTank 3400S
M2080
M2090
Pull Type Merger:
H5410
H5420
H5430
Rake Tedder:
255
Rotary Rake:
ProRotor™ 3114
ProRotor™ 3223
ProRotor™ 3226
ProRotor™ L640T Auto-Steer
Tedder:
163
169
H5270
ProTed™ 3417
ProTed™ 3625
ProTed™ 3836
Wheel Rake:
DuraVee 1020
DuraVee 1225
DuraVee 1428
DuraVee 1631
DuraVee 1833
DuraVee 2036
DuraVee 817
H5920
H5980
HT152
HT154
ProCart™ 1022
ProCart™ 1225
ProCart™ 1225 Plus
ProCart™ 1428 Plus
ProCart™ 819
Windrow Inverter:
144
166
– Self-Propelled Windrowers
1000 Series:
1100
1112
1114
1116
1118
1495 Haybine®
1496 Haybine®
1499 Haybine®
2000 Series:
2450
2550
900 Series:
912
H8000 Series:
H8040
H8060
H8080
HW Series:
HW300
HW305
HW305S
HW320
HW325
HW340
HW345
HW365
Speedrower® Series:
Speedrower® 130
Speedrower® 160
Speedrower® 200
Speedrower® 220
Speedrower® 240
Speedrower® 260
Versatile:
Versatile 400
Windrow Merger Attachment:
DuraMerger™ 419 Plus
– Sicklebar and Disc Heads
Disc Header:
2331
2331
2332
2332
2353
2355
2358
720HD
720TD
720TD
750HD
750HD Specialty Crop
770HD
820TD
820TD
Durabine™ 416
Durabine™ 416 Specialty
Durabine™ 419
Draper:
14HB
18HB
21HB
25HB
30HB
36HB
994D
DuraSwath™ 425HB
DuraSwath™ 430HB
DuraSwath™ 436HB
DuraSwath™ 440HB
Sicklebar:
12HS
14HS
14HS Specialty
16HS
18HS
2200H
2300H
Industrial Dryers
– Utility Dryers
K Series:
K-24
K-90
K-90E
K-94
LEGACY
– Accessories
DMI Other Models
DMI NON-CURRENT MODELS (NH)
– Agricultural Tractors
5900 Series Tractor:
5900 4 CYL AG TRACTOR MEXICO (05/01/1985-12/31/1993)
70 SERIES TRACTOR:
G170 FIAT TRACTOR (03/01/1994-)
G190 FIAT TRACTOR (03/01/1994-)
G240 FIAT TRACTOR (03/01/1994-)
CVT (II) SERIES NH STEYR TRACTOR:
6135_CVT NH STEYR AGRICULTURAL TRACTOR
6145_CVT NH STEYR AGRICULTURAL TRACTOR
6155_CVT NH STEYR AGRICULTURAL TRACTOR
6170_CVT NH STEYR AGRICULTURAL TRACTOR
6190_CVT NH STEYR AGRICULTURAL TRACTOR
CVT SERIES NH STEYR TRACTOR:
CVT120 NH STEYR AGRICULTURAL TRACTOR
CVT130 NH STEYR AGRICULTURAL TRACTOR
CVT150 NH STEYR AGRICULTURAL TRACTOR
CVT170 NH STEYR AGRICULTURAL TRACTOR
Fiat Tractor:
1880 FIAT TRACTOR
FIATMIGR FIAT MIGRATION
Tractors:
1000 2 CYL COMPACT TRACTOR (01/01/1973-12/31/1978)
1600 2 CYL COMPACT TRACTOR (01/01/1976-12/31/1979)
2000-SERIES 3 CYL TRACTOR (01/01/1965-12/31/1974)
2000-SERIES 4 CYL AG TRACTOR (01/01/1962-12/31/1964)
2100 3 CYL AG TRACTOR ALL PURPOSE (03/01/1965-12/31/1974)
2110 4 CYL COMPACT TRACTOR (01/01/1983-12/31/1986)
230A 3 CYL AG LCG TRACTOR (01/01/1981-04/30/1983)
231 3 CYL AG LCG TRACTOR (01/01/1975-12/31/1981)
2310 3 CYL AG NARROW TRACTOR (01/01/1965-12/31/1974)
2310 3 CYL AG TRACTOR ALL PURPOSE (03/01/1982-12/31/1983)
2600 3 CYL AG TRACTOR ALL PURPOSE (01/01/1975-12/31/1981)
2600N 3 CYL AG NARROW TRACTOR (01/01/1975-12/31/1981)
2600R 3 CYL AG TRACTOR RICE (01/01/1975-12/31/1981)
2600V 3 CYL VINEYARD TRACTOR (10/01/1975-09/30/1976)
2610 3 CYL AG TRACTOR ALL PURPOSE (01/01/1981-04/30/1983)
2610N 3 CYL AG NARROW TRACTOR (01/01/1981-12/31/1983)
2810 3 CYL AG TRACTOR (01/01/1984-02/28/1990)
2N FORD 4 CYL AG TRACTOR (01/01/1943-12/01/1947)
3000-SERIES 3 CYL TRACTOR (01/01/1965-12/31/1974)
3100 3 CYL AG TRACTOR ALL PURPOSE (01/01/1965-12/31/1974)
3600 3 CYL AG TRACTOR ALL PURPOSE (01/01/1975-12/31/1981)
3600N 3 CYL AG NARROW TRACTOR (01/01/1975-12/31/1981)
3600NO 3 CYL NARROW ORCHARD TRACTOR (01/01/1975-12/31/1981)
3600R 3 CYL AG TRACTOR RICE (01/01/1975-12/31/1977)
3600V 3 CYL VINEYARD TRACTOR (01/01/1975-12/31/1981)
3610 3 CYL AG TRACTOR ALL PURPOSE (08/01/1981-04/30/1983)
3900 3 CYL AG TRACTOR RICE (01/01/1975-12/31/1981)
4000-SERIES 3 CYL TRACTOR (01/01/1965-12/31/1974)
4000-SERIES 4 CYL AG TRACTOR (01/01/1962-12/31/1964)
4100 3 CYL AG TRACTOR ALL PURPOSE (01/01/1965-12/31/1974)
4100 3 CYL AG TRACTOR ALL PURPOSE (01/01/1975-12/31/1981)
4130 3 CYL AG TRACTOR ALL PURPOSE (03/01/1990-07/31/1999)
4200 3 CYL AG TRACTOR ROW CROP (01/01/1965-12/31/1974)
4340 3 CYL ORCHARD TRACTOR (01/01/1965-12/31/1974)
4400 3 CYL UTILITY TRACTOR (01/01/1965-12/31/1974)
5000-SERIES 4 CYL TRACTOR (01/01/1965-01/01/1975)
501 4 CYL AG TRACTOR ROW CROP (01/01/1959-12/31/1962)
5100 4 CYL AG TRACTOR ALL PURPOSE (01/01/1965-12/31/1974)
535 3 CYL TRACTOR LOADER (10/01/1975-09/30/1978)
541 4 CYL AG TRACTOR OFFSET (01/01/1959-12/31/1964)
5530 4 CYL HIGH CLEARANCE MUDDER TRACTOR (03/01/1992-12/31/1997)
5600 4 CYL AG TRACTOR (01/01/1975-12/31/1981)
5700 4 CYL AG TRACTOR FLAT DECK (07/01/1978-09/30/1980)
600 4 CYL AG TRACTOR ALL PURPOSE (01/01/1955-12/31/1957)
601 4 CYL AG TRACTOR ALL PURPOSE (01/01/1958-12/31/1962)
611 4 CYL AG TRACTOR ALL PURPOSE (01/01/1959-12/31/1964)
620 4 CYL AG TRACTOR ALL PURPOSE (01/01/1955-12/31/1964)
621 4 CYL AG TRACTOR ALL PURPOSE (01/01/1958-12/31/1964)
630 4 CYL AG TRACTOR ALL PURPOSE (01/01/1955-12/31/1957)
631 4 CYL AG TRACTOR ALL PURPOSE (01/01/1958-12/31/1964)
640 4 CYL AG TRACTOR ALL PURPOSE (01/01/1955-12/31/1957)
641 4 CYL AG TRACTOR ALL PURPOSE (01/01/1958-12/31/1964)
650 4 CYL AG TRACTOR ALL PURPOSE (01/01/1955-12/31/1957)
651 4 CYL AG TRACTOR ALL PURPOSE (01/01/1958-12/31/1964)
6530 4 CYL HIGH CLEARANCE MUDDER TRACTOR (03/01/1992-12/31/1997)
660 4 CYL AG TRACTOR ALL PURPOSE (01/01/1955-12/31/1957)
6600 4 CYL AG TRACTOR (01/01/1975-12/31/1981)
6600C 4 CYL AG TRACTOR ROW CROP (01/01/1975-09/30/1976)
6600O 4 CYL ORCHARD TRACTOR (01/01/1975-12/31/1981)
661 4 CYL AG TRACTOR ALL PURPOSE (01/01/1958-12/31/1964)
6700 4 CYL AG TRACTOR FLAT DECK (01/01/1975-12/31/1980)
671 4 CYL AG TRACTOR ALL PURPOSE (01/01/1959-12/31/1964)
681 4 CYL AG TRACTOR ALL PURPOSE (01/01/1959-12/31/1964)
700 4 CYL AG TRACTOR ROW CROP (01/01/1955-12/31/1957)
7000-SERIES 4 CYL TRACTOR (10/01/1971-12/31/1974)
701 4 CYL AG TRACTOR ROW CROP (01/01/1958-12/31/1962)
7100 4 CYL AG TRACTOR ALL PURPOSE (10/01/1971-12/31/1974)
7200 4 CYL AG TRACTOR ROW CROP (10/01/1971-12/31/1974)
741 4 CYL AG TRACTOR ROW CROP (01/01/1958-12/31/1964)
7410 4 CYL AG TRACTOR 10 SERIES (04/01/1989-10/31/1991)
7530 6 CYL HIGH CLEARANCE MUDDER TRACTOR (03/01/1992-)
7600 4 CYL AG TRACTOR (01/01/1975-12/31/1981)
7600C 4 CYL TRACTOR ROW CROP (01/01/1975-09/30/1976)
7700 4 CYL AG TRACTOR FLAT DECK (01/01/1975-12/31/1980)
771 4 CYL AG TRACTOR ROW CROP (01/01/1959-12/31/1964)
7910 6 CYL AG TRACTOR (01/01/1982-10/31/1991)
800 4 CYL AG TRACTOR ALL PURPOSE (01/01/1955-12/31/1957)
8000-SERIES 6 CYL TRACTOR (01/01/1968-12/31/1978)
801 4 CYL AG TRACTOR ALL PURPOSE (01/01/1958-12/31/1962)
811 4 CYL AG TRACTOR ALL PURPOSE (01/01/1959-12/31/1964)
820 4 CYL AG TRACTOR ALL PURPOSE (01/01/1955-12/31/1957)
8200 6 CYL AG TRACTOR ROW CROP (01/01/1968-09/30/1972)
821 4 CYL AG TRACTOR ALL PURPOSE (01/01/1958-12/31/1964)
840 4 CYL AG TRACTOR ALL PURPOSE (01/01/1955-12/31/1957)
841 4 CYL AG TRACTOR ALL PURPOSE (01/01/1958-12/31/1964)
850 4 CYL AG TRACTOR ALL PURPOSE (01/01/1955-12/31/1964)
851 4 CYL AG TRACTOR ALL PURPOSE (01/01/1958-12/31/1964)
860 4 CYL AG TRACTOR ALL PURPOSE (01/01/1955-12/31/1957)
8600 6 CYL AG TRACTOR ROW CROP (10/01/1972-07/31/1976)
861 4 CYL AG TRACTOR ALL PURPOSE (01/01/1958-12/31/1964)
8700 6 CYL AG TRACTOR FLAT DECK (08/01/1976-12/31/1978)
871 4 CYL AG TRACTOR ALL PURPOSE (01/01/1959-12/31/1964)
881 4 CYL AG TRACTOR ALL PURPOSE (01/01/1959-12/31/1964)
8N FORD 4 CYL AG TRACTOR (01/01/1947-12/01/1952)
900 4 CYL AG TRACTOR ROW CROP (01/01/1955-12/31/1957)
9000-SERIES 6 CYL TRACTOR (01/01/1969-12/31/1978)
901 4 CYL AG TRACTOR ROW CROP (01/01/1958-12/31/1962)
9200 6 CYL AG TRACTOR ROW CROP (01/01/1969-09/30/1972)
941 4 CYL AG TRACTOR ROW CROP (01/01/1958-12/31/1964)
950 4 CYL AG TRACTOR ROW CROP (01/01/1955-12/31/1957)
951 4 CYL AG TRACTOR ROW CROP (01/01/1958-12/31/1964)
960 4 CYL AG TRACTOR ROW CROP (01/01/1955-12/31/1957)
9600 6 CYL AG TRACTOR ROW CROP (10/01/1972-07/31/1976)
961 4 CYL AG TRACTOR ROW CROP (01/01/1958-12/31/1964)
9700 6 CYL AG TRACTOR FLAT DECK (08/01/1976-12/31/1978)
971 4 CYL AG TRACTOR ROW CROP (01/01/1959-12/31/1964)
981 4 CYL AG TRACTOR ROW CROP (01/01/1959-12/31/1964)
9N FORD 4 CYL AG TRACTOR (01/01/1939-12/31/1941)
DEXTA 3 CYL AG TRACTOR (01/01/1958-12/31/1964)
FMD FORDSON TRACTOR (01/01/1952-12/31/1964)
NAA 4 CYL AG TRACTOR ALL PURPOSE (01/01/1953-12/31/1954)
SUPER DEXTA 3 CYL AG TRACTOR (01/01/1958-12/31/1964)
TT3020 – TIER 3
TT3040 – TIER 3
– Attachment
Implement:
918L-SERIES FORD LIGHT DUTY FLAIL MOWER (06/01/1990-)
– Diagnostic Tools
NHPDA and EST:
NHPDA PDA SUPPORT TOOL
– Display Systems
PLM PRECISION FARMING:
AMS – APPLICATION MANAGEMENT SYSTEM FOR PRECISION FARMING
EZ-Guide® 500
FlexCommand 7
PLM_INTELLIRATE NEW HOLLAND GENERIC RATE CONTROL SYSTEM
PLM_RECON_FIELD_MAP REMOTE MAPPING SYSTEM
– Guidance Systems
PLM GUIDANCE SYSTEMS:
PLM_EZGUIDE_PLUS NEW HOLLAND
– GRAIN HEADS:
971 NH RIGID GRAIN HEAD (07/01/1984-)
973 NH FLEXIBLE GRAIN HEAD (07/01/1984-)
– LEGACY
– Self-Propelled Forage Harvesters
Forage Harvesters NH:
1890 NH SP FORAGE HARVESTER (07/01/1975-07/31/1978)
1895 NH SP FORAGE HARVESTER (07/01/1977-07/31/1982)
1900 NH SP FORAGE HARVESTER (07/01/1980-07/01/1988)
2100 NH SP FORAGE HARVESTER AFTER S/N 404591 (07/31/1980-07/31/1988)
2100 NH SP FORAGE HARVESTER S/N 404501-404590 (11/01/1979-01/10/1980)
– Square Balers
Balers:
1280 NH SELF PROPELLED SQUARE BALER (11/06/1961-07/25/1964)
178 NH SELF PROPELLED SQUARE BALER (03/16/1959-06/16/1961)
2000 NH LARGE SQUARE BALER (08/01/1987-05/01/1994)
2010 NH BALE ACCUMULATOR (01/01/1986-12/01/1991)
66 NH SQUARE BALER (10/01/1952-07/01/1955)
– Tillage
Portable Heater:
53431 40 000 BTU PORTABLE HEATER (08/01/1991-12/31/1992)
53432 55 000 BTU PORTABLE HEATER (08/01/1991-12/31/1992)
53433 100 000 BTU PORTABLE HEATER (08/01/1991-12/31/1993)
53434 150 000 BTU PORTABLE HEATER (08/01/1991-12/31/1992)
CTN-100 100000 BTU PORTABLE HEATER (01/01/1984-12/31/1985)
CTN-100 100000 BTU PORTABLE HEATER (01/01/1986-12/31/1991)
CTN-100 100000 BTU PORTABLE HEATER (03/01/1977-12/31/1980)
CTN-100C 100000 BTU PORTABLE HEATER (01/01/1977-12/31/1980)
CTN-100C 100000 BTU PORTABLE HEATER (03/01/1984-12/31/1986)
CTN-100C 100000 BTU PORTABLE HEATER (08/01/1986-12/31/1991)
CTN-100CG PORTABLE SPACE HEATER ASSEMBLY (CANADA) (01/01/1981-12/31/1982)
CTN-150 150000 BTU PORTABLE HEATER (01/01/1977-12/31/1980)
CTN-150 150000 BTU PORTABLE HEATER (01/01/1984-12/31/1986)
CTN-150 150000 BTU PORTABLE HEATER (01/01/1986-12/31/1991)
CTN-150C 150000 BTU PORTABLE HEATER (01/01/1984-07/31/1986)
CTN-150C 150000 BTU PORTABLE HEATER (08/01/1977-12/31/1980)
CTN-150C 150000 BTU PORTABLE HEATER (08/01/1986-12/31/1991)
CTN-150CG PORTABLE HEATER (01/01/1981-12/31/1982)
CTN-320 320000 BTU PORTABLE HEATER (01/01/1977-12/31/1980)
CTN-320DS 320000 BTU PORTABLE HEATER (01/01/1981-12/31/1982)
CTN-40 40000 BTU PORTABLE HEATER (01/01/1977-12/31/1980)
CTN-40A 40000 BTU PORTABLE HEATER (01/01/1984-12/31/1986)
CTN-40A 40000 BTU PORTABLE HEATER (01/01/1986-12/31/1991)
CTN-40C PORTABLE HEATER – CANADA (01/01/1984-12/31/1986)
CTN-40DS 40000 BTU PORTABLE HEATER (01/01/1981-12/31/1982)
CTN-55 55000 BTU PORTABLE HEATER (01/01/1977-12/31/1980)
CTN-55 55000 BTU PORTABLE HEATER (01/01/1984-12/31/1986)
CTN-55 55000 BTU PORTABLE HEATER (03/01/1986-12/31/1991)
CTN-55C 55000 BTU PORTABLE HEATER (01/01/1984-12/31/1986)
CTN-55DS 55000 BTU PORTABLE HEATER (01/01/1979-12/31/1982)
– Utility Dryers
Implement:
22 INDUSTRIAL DRYER (01/01/1970-)
88 INDUSTRIAL DRYER (01/01/1970-)
K11 INDUSTRIAL DRYER (01/01/1985-)
K23 INDUSTRIAL DRYER (01/01/1976-)
K24 INDUSTRIAL DRYER (01/01/1988-)
K89 INDUSTRIAL DRYER (01/01/1976-)
K89E INDUSTRIAL DRYER (01/01/1976-)
K90 INDUSTRIAL DRYER (04/01/1993-)
K90E INDUSTRIAL DRYER (04/01/1993-)
K94 INDUSTRIAL DRYER (01/01/1990-)
Light Equipment
– Mini Excavators
E_C_SERIES:
E17C
E18C
E19C
E26C
E30C
E33C
E37C
E57C
E60C
– Skid Steer Loaders
100 Series Compact Track Loaders:
C175
C185
C190
100 Series Skid Steer Loaders:
L120
L125
L140
L150
L160
L170
L175
L180
L185
L190
200 Series Compact Track Loaders:
C227
C232
C234
C237
C238
C245
200 Series Skid Steer Loaders:
L213
L215
L216
L218
L220
L221
L223
L225
L228
L230
L234
300 Series Compact Track Loaders:
C327
C332
C334
C337
C345
300 Series Skid Steer Loaders:
L313
L316
L318
L320
L321
L328
L334
L800:
LX885
LS and LT Series:
LS120
LS125
LS140
B
LS150
B
LS160
B
B
LS170
B
LS175
B
LS180
B
LS185
B
LS190
B
B
B
Power units
– 4.5L Power Units
100A
120A
150A
170A
– 6.7L Power Units
175A
205A
245A
285A
– BSD Engine
BSD329
BSD332
BSD333
BSD333H
BSD442
BSD444
BSD444H
BSD444HT
BSD444T
BSD666
BSD666T
BSD666TI
– RP Series
RP110
RP135
RP165
RP65
RP85
RPZ125
RPZ145
RPZ65
RPZ85
– S Series
S110
S140
S170
S215
S240
S70
S80
S85
SE110
SE140
SE170
SE190
SE215
SE240
SE70
SE85
Rearing Livestock and Loaders
– Loaders
FL:
100FL
120FL
130FL
90FL
Farm Loader:
7106
7108
7109
7209
7210
7308
7309
7310
7312
7314
7410
7410HD
7411
7412
7412HD
7413
7511
7514
768B
770B
LA:
10LA
12LA
14LA
15LA
16LA
17LA
18LA
32LA
33LA
52LA
72LA
810LA
815LA
830LA
835LA
850LA
855LA
857LA
910LA
915LA
917LA
935LA
937LA
975LA
LB:
46LB
52LB
56LB
62LB
72LB
82LB
84LB
92LB
LC:
100LC
200LC
32LC
52LC
TL:
110TL
115TL
140TL
210TL
220TL
230TL
235TL
240TL
240TL-SS
250TL
260TL
270TL
610TL
611TL
615TL
616TL
620TL
621TL
622TL
625TL
626TL
627TL
630TL
632TL
635TL
637TL
640TL
645TL
650TL
655TL
665TL
740TL
750TL
760TL
810 TL
815TL
820 TL
825TL
830 TL
835TL
840 TL
845TL
850 TL
855TL
860 TL
865TL
875TL
880TL
885TL
TLA:
140TLA
250TLA
260TLA
Versatile:
Versatile 2360
Versatile 7414
Versatile 7614
– Telescopic Handlers
ATTACHMENTS:
Bale Grab CNHi models
Bale Gripper CNHi models
Fork with Grab OEM models LM5.25 – Farmilft 525 CNHi Bracket
Fork with Grab OEM models LM5.25 – Farmilft 525 MANITOU Bracket
Fork with Grab OEM models LM6.28 CNHi Bracket
Fork with Grab OEM models LM6.28 MANITOU Bracket
Fork with Grapple CNHi models
Grab Bucket with Forget Tines CNHi models
Grab Bucket with Oxycutted Tines CNHi models
STD Grab Bucket OEM models LM5.25 – Farmilft 525 CNHi Bracket
STD Grab Bucket OEM models LM5.25 – Farmilft 525 MANITOU Bracket
STD Grab Bucket OEM models for LM6.28 CNHi Bracket
STD Grab Bucket OEM models for LM6.28 MANITOU Bracket
LM:
LM410
LM415A
LM420
LM430
LM435A
LM445A
LM630
LM640
LM STAGE IV and TIER4B:
LM 6.28
LM 6.32
LM 6.35
LM 7.35
LM 7.42
LM 7.42
35
LM TIER4:
32
35 ELITE
35
42 ELITE
35
LM5000:
LM5020
LM5030
LM5040
LM5060
LM5080
LM_TIER4_OEM:
25
28
TH:
28
32
32 S
36 ELITE
36 PLUS
32
32 PLUS
32 S
37
37 ELITE
37 PLUS
42 ELITE
42 PLUS
35
35 PLUS
Service and Diagnostic Tools
– Diagnostic Tools
Electronic Service Tool (EST) Additional Tools:
Cummins® INSITE™
EASy Engine Diagnostic Tool
Grammer® Seat Diagnostic Tool
IHI SHIBAURA Electronic Service Tool D
IHI SHIBAURA Electronic Service Tool I
LS MTRON Diagnostic Tool
PLUS+1® Diagnostic Tool
Raven Service Tool
Vector Diagnostic Tool
New Holland Electronic Tools:
Electronic Service Tool (EST)
Remote Service Tool (RST)
Tractors
– Agricultural Tractors
10 Series
10S
10S Economy
30 Series
40
60
66
70
8030 Series
90
EXCEL
FW
Fiat 86
Fiat F
Genesis®
L/35
T1000
T2000
F
– TIER 4A (INTERIM) and STAGE IIIB
– TIER 4B (FINAL) and STAGE IV / STAGE V
Auto Command™
T5000 – TIER 3 and STAGE IIIA
Auto Command™ – TIER 4A (INTERIM) and STAGE IIIB
Auto Command™ – TIER 4B (FINAL) and STAGE IV / STAGE V
120-175 – TIER 4A (INTERIM) and STAGE IIIB
125-180 – TIER 4B (FINAL) and STAGE IV / STAGE V
T6000 – TIER 3 and STAGE IIIA
– TIER 4B (FINAL) and STAGE IV / STAGE V
Auto Command™ – TIER 4B (FINAL) and STAGE IV / STAGE V
170-210 Auto Command™ – TIER 4A (INTERIM) and STAGE IIIB
170-210 Range Command™ /Power Command™ – TIER 4A (INTERIM) and STAGE IIIB
220-260 Power Command™ – TIER 4A (INTERIM) and STAGE IIIB
220-270 Auto Command™ – TIER 4A (INTERIM) and STAGE IIIB
T7000 Auto Command™ – TIER 3 and STAGE IIIA
T7000 Power Command™ – TIER 3 and STAGE IIIA
PLM Intelligence™
SmartTrax™
SmartTrax™ PLM Intelligence™
T8000
PLM Intelligence™
T9000
TB
TD5000
TDD
TDD HC
TG
TJ
TL – TIER 1 and STAGE I
TL5000
TLA – TIER 2 and STAGE II
TM
TS
TS6
TS6000
TSA
TSA Delta
TT
TV Bidirectionnal
TVT
TW
TZ
Versatile
WORKMASTER
– Attachment
Backhoe:
765
905GBL
910GBL
910GH
915GBH
920GH
925GBH
930GH
935GBH
940GH
Debris Blower:
708D
Front Blade:
54CB
60CB
60RBHB
702D
72CB
72CBH
84CBH
Grass Catcher:
9CG
MZ48GC
Loader:
235TL
Mower Deck:
160GMS
230GM
260GMS
266BMM
266GMS
266WMM
272GMS
320GM
330GM
366GMC
366GMS
372GMS
372GSL
410GM
420GM
430GM
54CMS
60CMS
914A
918H
930B
Rotary Broom:
60CO
704D
72CO
Rotary Cutter:
714GC
716GC
717GC
736GC
737GC
738GC
757GC
758GC
768GC
769GC
770GC
780GC
Rotary Tiller:
105A
Snow Blower:
50CS
50RS
62MS
63CSH
64CSR
716B
716C
74CSH
836GS
84CSR
Track:
High idler module 36 inch track package
Standard module 36 inch track package
– Compact Tractors
10 Series:
1110
1210
1310
1510
1710
1710 Offset
1910
1000 Series:
1100
1200
1300
1500
1700
1900
15 Series:
1215
1715
3415
20 Series:
1120
1220
1320
1520
1620
1720
1920
2120
Boomer™:
Boomer™ 1020
Boomer™ 1025
Boomer™ 1030
Boomer™ 1530
Boomer™ 1630
Boomer™ 1725
Boomer™ 1925
Boomer™ 20
Boomer™ 2030
Boomer™ 2035
Boomer™ 24
Boomer™ 25
Boomer™ 30
Boomer™ 3040
Boomer™ 3040 CVT
Boomer™ 3045
Boomer™ 3045 CVT
Boomer™ 3050
Boomer™ 3050 CVT
Boomer™ 33
Boomer™ 35
Boomer™ 37
Boomer™ 40
Boomer™ 4055
Boomer™ 4060
Boomer™ 40D CVT
Boomer™ 41
Boomer™ 45
Boomer™ 45D CVT
Boomer™ 46D
Boomer™ 47
Boomer™ 50
Boomer™ 50D CVT
Boomer™ 54D
Boomer™ 55
Boomer™ 8N
T2000:
T2220
T2310
T2320
T2330
TC:
TC18
TC18D
TC21
TC23DA
TC24D
TC25
TC25D
TC26DA
TC29DA
TC30V
TC30V
TC31DA
TC33
TC33DA
TC34DA
TC35A
TC35DA
TC40A
TC40D
TC40DA
TC45
TC45A
TC45D
TC45DA
TC48DA
TC55DA
TCE:
TCE40
TCE45
TCE50
TCE55
Utility Dig:
756C
757C
758C
759C
Workmaster™:
Workmaster 40
Workmaster™ 25
Workmaster™ 25S
Workmaster™ 33
Workmaster™ 35
Workmaster™ 37
Workmaster™ 40
– Crawler Tractors
Fiat 85:
55-85 F
55-85 M
55-85 V
60-85 F
60-85 V
72-85
72-85 M
82-85 M
88-85 M
TK – TIER 1 and STAGE I:
TK65F
TK65V
TK75F
TK75M
TK75V
TK76
TK76M
TK85
TK85M
TK95M
TK Hydro – Tier 2 and STAGE II:
TK130 Hydro
– TIER 4A and STAGE IIIB:
100
100M
110
110M
80F
80N
80V
TK4000 – TIER 3 and STAGE IIIA:
TK4030V
TK4050
TK4050M
TK4060
TKA – TIER 2 and STAGE II
TK100A
TK70FA
TK70FA Full Drive
TK70VA
TK70VA Full Drive
TK75FA
TK75FA
TK75FA Full Drive
TK75MAFull Drive
TK75VA
TK80A
TK80MA
TK90A
TK90MA
– Lawn and Garden Tractors
Commerical Mowers:
CM222
CM224
CM272
CM274
G5035
MC22
GT:
GT18
GT20
GT20A
GT22
GT22A
GT65
GT65 Power Steer
GT75
GT75 Power Steer
GT85
GT85 Power Steer
GT95
GT95 Power Steer
LGT:
LGT14D
LGT16D
LS:
LS25
LS35
LS45
LS55
LT:
LT10
LT11
LT11H
LT12
LT8
YT:
5
YT14
YT16
YT16H
YT18H
– Specialty Tractors
30 Series Vineyard:
3830
4030
4230
4330V
4430
County Tractor:
1164 Super 6
754 Super 4
F – TIER 3 and STAGE IIIA:
105F
75F
85F
95F
F – TIER 4A (INTERIM) and STAGE IIIB:
100F
110F
80F
90F
V – TIER 3 and STAGE IIIA:
105V
75V
85V
95V
V – TIER 4A (INTERIM) and STAGE IIIB:
100V
110V
80V
90V
T4000F – TIER 3 and STAGE IIIA:
T4030F
T4040F
T4050F
T4060F
T4000V – TIER 3 and STAGE IIIA:
T4030V
T4040V
T4050V
T4060V
F:
100F
80F
90F
TD4000F:
TD4040F
TI4 – TIER 4A (INTERIM) and STAGE IIIB:
100
70
80
90
TNF – TIER 1 and STAGE I:
TN65F
TN70F
TN75F
TN80F
TN90F
TN95F
TNFA – TIER 2 and STAGE II:
TN75FA
TN85FA
TN95FA
TNN – TIER 1 and STAGE I:
TN65N
TN75N
TNNA – TIER 2 and STAGE II:
TN70NA
TN75NA
TN75NA Delta
TN95NA
TN95NA Delta
TNV – TIER 1 and STAGE I:
TN55V
TN65V
TN75V
TNVA – TIER 2 and STAGE II:
TN60VA
TN70VA
TN75VA
TN95VA
– Utility Tractors
200 Series:
4600 Special Utility
5200
Ford Industrial:
2030
250C
260C
335
335 Highway
3400
340B
345C
532
PowerStar™ – TIER 4B (Final) and STAGE IV:
PowerStar™ 100
PowerStar™ 110
PowerStar™ 120
PowerStar™ 65
PowerStar™ 75
PowerStar™ 90
65 PowerStar™
75 PowerStar™
Powerstar™ – TIER 3 and STAGE IIIA:
65 Powerstar™
75 Powerstar™
– TIER 4A (INTERIM) and STAGE IIIB:
105
115
85
95
– TIER 4B (FINAL) and STAGE IV / STAGE V:
100
110
120
90
T4000 – TIER 3 and STAGE IIIA:
T4020
T4020 Deluxe and Supersteer™
T4030
T4030 Deluxe and Supersteer™
T4040
T4040 Deluxe and Supersteer™
T4050
T4050 Deluxe and Supersteer™
TN – TIER 1 and STAGE I:
TN55
TN65
TN70
TN75
TNA – TIER 2 and STAGE II:
TN60A
TN70A
TN75A
TN85A
TN95A
TND – TIER 1 and STAGE I:
TN55D
TN65D
TN70D
TN75D
TN75D
TNDA – TIER 2 and STAGE II:
TN60DA
TN70DA
TN75DA
TN85DA
TN95DA
TNS – TIER 1 and STAGE I:
TN55S
TN65S
TN70S
TN75S
TNSA – TIER 2 and STAGE II:
TN60SA
TN70SA
TN75SA
TN85SA
UTV:
Rustler 115
Rustler 120
Rustler 125
Workmaster™:
Workmaster™ 105
Workmaster™ 120
Workmaster™ 45
Workmaster™ 50
Workmaster™ 55
Workmaster™ 60
Workmaster™ 65
Workmaster™ 70
Workmaster™ 75
Workmaster™ 95

Flexicoil

Document:
Software guide
Bulletin
Knowledge Articles
Product:
Dryland and Row Crop Products
* Air Carts
40 Series Air Carts
50 Series Air Carts
60 Series Air Carts
P Series Air Carts
Seed Treatment Unit
* Harrow and Packers
75
85
SG
* Planting and Seeding Equipment
SP Planters
Seeding
Toolbar
* Sprayers
55
65
67
68
S
SF
* Tillage
Chisel Plow
Cultivator and Precision Tillage
LEGACY
* Air Carts
FC AIR CARTS:
1100 FC 110 BU AIR CART (04/01/1986-03/01/1991)
1110 FC 110 BU TBH AIR CART (02/01/1988-10/01/1994)
1115 FC 110 BU TBT AIR CART (01/01/1988-05/01/1993)
1330 FC 130 BU AIR CART (02/01/1994-03/01/1995)
1330PLUS FC 130 BU AIR CART (02/01/1999-12/01/2002)
1600 FC 160 BU AIR CART (02/01/1987-02/01/1993)
1610 FC 160 BU TBH AIR CART (02/01/1988-02/01/1993)
1615 FC 160 BU TBT AIR CART (03/01/1988-04/01/1993)
1720 FC 170 BU AIR CART (06/01/1992-01/01/1998)
2320 FC 230 BU AIR CART (05/01/1995-06/01/2001)
320 FC 24 BU THIRD TANK 20 SERIES (08/01/1992-11/01/1998)
* Attachment
FC HARROWS AND PACKERS:
82 FC HARROW BAR
95 FC HARROW PACKER DRAWBAR (12/01/1984-10/01/1995)
* Tillage
FC TILLAGE:
300A FC CHISEL PLOW (08/01/1985-09/01/1996)
300B FC CHISEL PLOW (04/01/1985-10/01/1996)
800 FC CHISEL PLOW
Precision Farming
Aplication Systems
Display Systems
Service and Diagnostic Tools
Flexi-Coil Electronic Tools

* Miller

Document:
Knowledge Articles
Bulletin
Software Guide
Product:
Dryland and Row Crop Products
– Sprayer attachments
Dry box:
Multapplier dry box
Single bin dry box
Liquid system:
Poly tank liquid system
Stainless steel tank liquid system
Tool Bar:
Injection Tool Bar
– Sprayers
Combo Units:
GC300C
Condor Rear Boom Sprayers:
A40
A75
G40
G75
GC260
GC300
GC40
GC75
Nitro® Front Boom Sprayers:
4215
4215 HT
4240
4240 HT
4275
4315
4333
4365
Nitro® 5215
Nitro® 5225
Nitro® 5240
Nitro® 5250
Nitro® 5275
Nitro® 5300
Nitro® 5333
Nitro® 5345
Nitro® 5365
Nitro® 5400
Nitro® 6300
Nitro® 6345
Nitro® 6500
Nitro® 7310
Nitro® 7370
Nitro® 7410
Precision Farming
Display Systems
SprayView Displays
SprayView IV
Service and Diagnostic Tools
Diagnostic Tools:
Electronic Service Tool (EST) Additional Tools
Miller Electronic Tools
Electronic Service Tool (EST)

Kobelco

Document:
Knowledge Articles
Bulletin
Software Guide
Product:
Heavy Equipment
Crawler Excavator:
– E
E135MSR
E165
E215
E235
– ED
ED150
ED150-2
ED150SR-2
ED160 Blade Runner
ED180-IV
ED190-6
ED195-8
– SK
SK100-IV
SK100-V
SK115
SK115DZ-IV
SK120-III
SK120-IV
SK120-V
SK130-IV
SK135
SK135SR
SK150-IV
SK160-6
SK170-8
SK170-9
SK200
SK200-III
SK200-IV
SK200-V
SK210-6
SK210-8
SK210-9
SK220-III
SK220-IV
SK235
SK250-6
SK260
SK260-8
SK260-9
SK270-IV
SK290-6
SK295
SK295-8
SK295-9
SK300-III
SK300-IV
SK330-6
SK350-8
SK350-9
SK400-III
SK400-IV
SK480-6
SK485-8
SK485-9
SK850
– SK SR-2
SK140SR-2
SK215SR-2
SK235SR-2
LEGACY
Crawler Excavators
Wheel Loaders
Light Equipment
– Midi Excavators
Acera:
70SR
80CS
ESR:
E115SR
E135SR
E200SR
E70SR
E80SR
SK:
SK60-III
SK60-IV
SK70
SK70SR
SK70SR-2
SK75SR
SK80
SK80CS
SK80CS-2
SRLC:
135SRLC
140SRLC
230SRLC-3
260SRLC-3
– Mini Excavators
ESR:
E20SR
E22SR
E25SR
E30SR
E35SR
E40SR
E45SR
E9SR
SK:
SK13SR
SK15SR
SK17SR
SK20SR-3
SK25SR
SK27SR
SK30SR
SK35SR
SK40SR-3
SK45SR
SK50SR
SK55SRX
Service and Diagnostic Tools
Diagnostic Tools
DATAR
Electronic Service Tool (EST) Additional Tools
Kobelco Electronic Tools