I have an Autel MaxiSys M908S Pro with the J2534 interface and works great. You can do all tests for nearly all brands of vehicles (even Tesla they begun to support it from this year), you can check all modules of the vehicles, same as factory scanner tools, read and clear codes, read all live data, make all bi-directional controls, adaptations, resets, etc. etc….there's nearly nothing it can't do, except module reprogramming which you should use it through the OEM websites. The J2534 passtrough interface is completely compatible with all brands for OEM programming.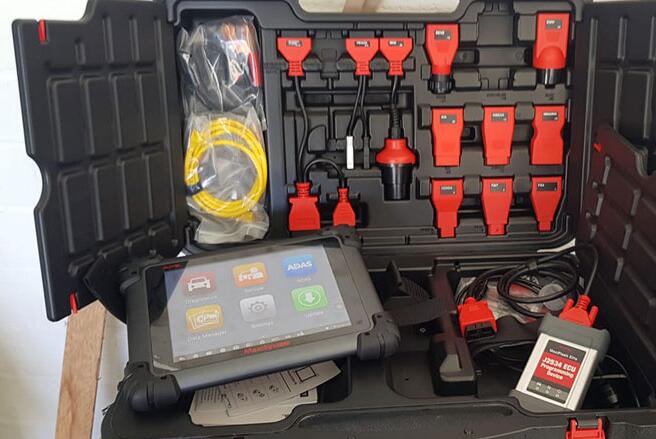 But you can get also the MaxiSys M908S normal (without the Pro) and is a little cheaper because doesn't include the J2534 interface, instead it comes with a regular Bluetooth VCI unit. If you are not going to do reprogramming, with the MS908S alone you have enough.
Both tools do the same, the difference is the VCI.
In another word, you can buy the regular M908S scanner first and then add the J2534 interface later, no problem. If you buy them new separate will be more expensive than buying all together in the M980S Pro bundle, but if you find good used deal buying separate, no problem. Is good also to have the regular Bluetooth VCI as is smaller than the J2534 interface and more handy to use. You can buy all them separate and then only need to pair the Bluetooth of any of them to the scanner to activate.
About the updates is quite expensive, about 795 US$ a year, compared to other makes and models, but their after-sales service is Top Quality. I bought my unit used and I had some issues to transfer the unit to my name and register it, and Autel Support help me flawlessly to do it without any problem.
The unit works great, never had any issue with it and I use it daily. Is my primary main scanner, I also have Snap-On, OTC and Launch, but the Autel is my main one. I do not update it every year, as I said it is expensive, and I don't use to work on brand new cars, so I usually buy an update every 2 or 3 years and that is enough to keep the tool ready for work.
In another word, About the updates, you always can update when you want with Autel, and always you will receive the latest updates including all the software released during the time you didn't had the subscription active. If you end your subscription, the tool will continue working 100% with the current software you have installed on it forever, and the day you purchase the subscription again it will download all the pending software to make it up to the day. You don't have to pay extra for missed updates, just subscribe again one time, and the tool will get all the updates available during the 1 year time period of the subscription until it expires again.
If you find a good deal in one of them you will not be disappointed. If you are more in a DIY type of work, maybe you don't need a Top of the Line scanner like that, as I said is more oriented to the workshop professional use, and Autel has also some other models cheaper that nearly do all same functions and is enough for less intensive use.
Good to know:
None of this scanners (Autel, Launch, Snap-on, etc. will NOT allow you to do coding or removing the speed limits or reading files of modules. This scanners are only for diagnostics, not programming or modifying files of the chips inside the modules.
The price for x431 seems to be around £600 compared to £2200 for the autel? Can it do same functions and bidirectional scanning and testing.
The answer is: You have to check websites from Lauch and Autel and compare functions that can do every scanner, but of course one for $600 does not do the same performace as one of $2000. Cheap ones usually don't have bi-directional controls or sometimes can't access all modules, etc…so read well the specifications of each one before buying them. J2534 programming is updating the files inside the modules but using OEM manufacturer newer provided files, NOT EDITING OR MODIFYING the files. If you want to modify files none of this scanners will do it.
In the Autel you only can run Autel software as far as I know, every scanner brand can run ONLY their own diagnostic software.
To sum up:
Using Autel M908S Pro with the J2534, you can do everything about DIAGNOSTICS and factory programming (if you buy the J2534 interface), but you WILL NOT do coding, or programming modifications or "tuning" or anything that means modifying the original performance of the vehicle. It only allows to do modifications on adaptations, change some configuration parameters, activate new installed modules, write VIN numbers to new modules (if allowed) or do everything an OEM dealer can do with its official diagnostic tool.
But as I said, they are for DIAGNOSTIC, not for coding, cloning or doing modifications to the OEM programming inside the modules. For this you need other tools that are NOT SCANNERS.