If you own a CAT machinery or truck and are looking to tune its engine, it is important to determine whether your CAT ET (Electronic Technician) has ECM (Engine Control Module) flashing capability. ECM flashing allows you to update or modify the software in your engine's control module, improving its performance and efficiency. In this article, we will guide you through the process of checking if your CAT ET has the necessary features for ECM flashing.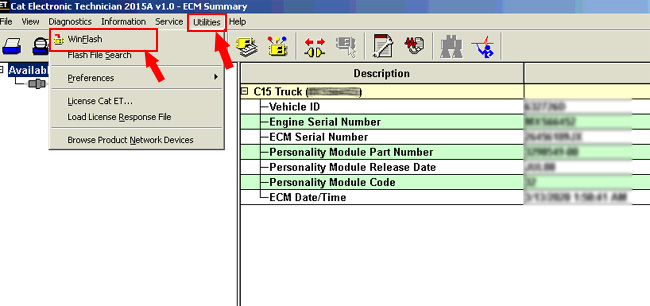 1. Connect Your Machine/Truck/Engine to Your Computer
To begin, connect the machine, truck, or engine that you wish to tune to your computer using the appropriate cables and connectors. Make sure the connection is secure and the device is properly powered.
2. Connect with CAT ET
Launch CAT ET on your computer and establish a connection with the ECM(s) of your machine/truck/engine. Ensure that the connection is established successfully before proceeding to the next step.
3. Check for WinFlash Feature
Once connected to the ECM(s), it is time to check if the WinFlash feature is enabled in your CAT ET. To do this, click on the "UTILITIES" tab in the CAT ET software. Look for the dropdown menu and see if the WinFlash feature is listed. Refer to the accompanying photo to confirm how it should appear when the WinFlash feature is enabled.
4. Enable ECM Flashing
If you see the WinFlash feature in the dropdown menu, congratulations! Your CAT ET supports ECM flashing, and you can proceed with flashing the ECM. This allows you to update the software in the engine control module to enhance its performance.
5. Alternative Options
If the WinFlash feature is not listed in the dropdown menu, it means that your CAT ET does not support ECM flashing. However, there are alternative solutions available. You can install a different version of CAT ET that supports ECM flashing, but keep in mind that you will need to uninstall your current version first. Alternatively, you can provide access to a computer that does not have CAT ET installed on it, allowing the installation of a different version specifically for ECM flashing. It is important to note that you cannot run two versions of CAT ET on the same computer simultaneously.
In conclusion, determining whether your CAT ET has ECM flashing capability is crucial when it comes to tuning your CAT machinery or truck. By following the steps mentioned above, you can easily check if the WinFlash feature is enabled in your CAT ET software. If it is, you can proceed with ECM flashing to optimize your engine's performance. If not, alternative options are available to ensure you can still perform ECM flashing efficiently.