What is ISUZU US-IDSS II?
US-IDSS is intended for diagnostics Isuzu equipment and contains step-by-step recommendations for collecting the necessary information and also supports vehicle engine and controller systems.
US-IDSS is a comprehensive diagnostic tool which houses Service Information (including Electrical Troubleshooting Manual), Scan Tool, Service Programming, Bulletins and some training to support all Isuzu manufactured products. The system utilizes a laptop in conjunction with an industry standard J2534 vehicle interface device.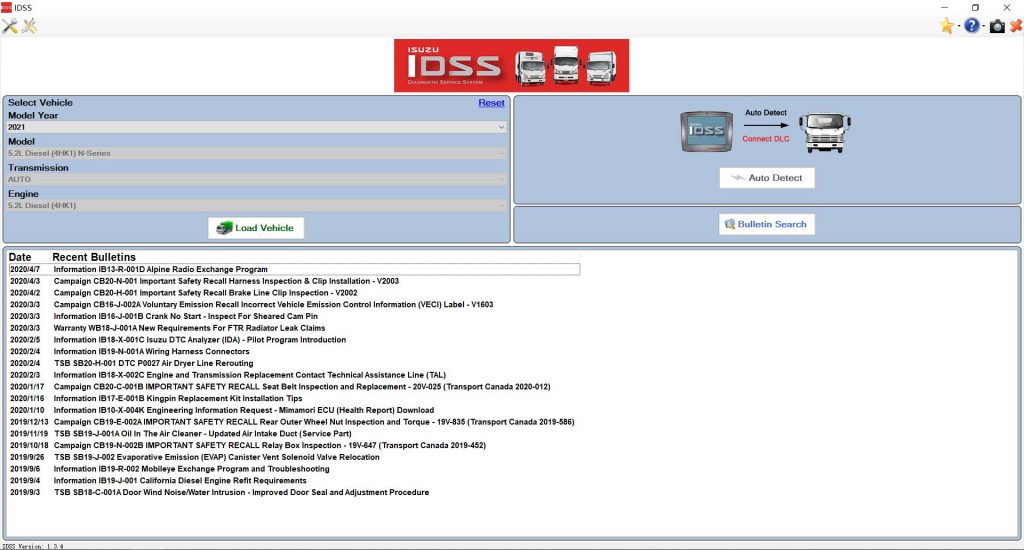 ISUZU US-IDSS II Features:
Only English
Market for USA and Canada
5.38 Gb
repair manual, Diagnostic Software
ISUZU US-IDSS II Support Windows Systems:
Windows 7 32 bit, Windows 7 64 bit, Windows 8/8.1 32 bit, Windows 8/8.1 64 bit, Windows 10 32 bit, Windows 10 64 bit
ISUZU US-IDSS II Functions:
Diagnostics of each system (Engine, Transmission, Chasis, Body);
Programming control modules
Download data from Mimamori / DRM
Communication between scanner and repair manual
Latest data is distributed through software updates over the Internet
Wireless communication between the interface unit and the PC
Electronic Service Bulletin
Remote technical support
Dealer Management System
ISUZU US-IDSS II Support Interface:
1Dearborn Group DPA 5
2IDS MX1 (Isuzu Interface Device)
3IDS MX2 (Isuzu Interface Device)
4CarDAQ (Drew Technologies)
5Nexiq (Nexiq Technologies)
6Nexiq 2 (Nexiq Technologies)
7Noregon DLA + (JPRO Fleet Products)
8Noregon DLA 2.0+ (JPRO Fleet Products)
9Bosch (J2534 Interface Device)
ISUZU US-IDSS II Cover Models:
2021
– 5.2L Diesel (4HK1) N-Series
2020
– FTR 5.2L (4HK1-TC Diesel)
– NPR / NPRHD / NQR/ NRR 5.2L (4HK1-TC Diesel)
– 6.0L Gas N-Series
2019
– FTR 5.2L (4HK1-TC Diesel)
– NPR / NPRHD / NQR/ NRR 5.2L (4HK1-TC Diesel)
– NPR / NPRHD 6.0L Gasoline
2018
– NPR Stripped Chassis
– NPR / NPRHD / NQR/ NRR 3.0L (4JJ1-TC Diesel)
– FTR 5.2L (4HK1-TC Diesel)
– NPR / NPRHD / NQR / NRR 5.2L (4HK1-TC Diesel)
– NPR / NPRHD 6.0L Gasoline
2017-2012
– NPR Stripped Chassis
– NPR / NPRHD / NQR / NRR 3.0L (4JJ1-TC Diesel)
– NPR / NPRHD / NQR / NRR 5.2L (4HK1-TC Diesel)
– NPR / NPRHD 6.0L Gasoline
2011
Isuzu / Chevrolet or GMC
– NPR / NPRHD / NQR / NRR 3.0L (4JJ1-TC Diesel)
– NPR / NPRHD / NQR / NRR 5.2L (4HK1-TC Diesel)
2010
– NPR / NPRHD / NQR / NRR 5.2L (4HK1-TC Diesel)
2009
Chevrolet or GMC / Isuzu
W3500 / W4500 / W5500 5.2L (4HK1-TC Diesel)
W3500 / W4500 6.0L Gasoline
C6500 / C7500 / C8500 7.8L (6HK1-TC Diesel)
T6500 / T7500 / T8500 7.8L (6HK1-TC Diesel)
2008-2005
Isuzu / Chevrolet or GMC
– NPR / NPRHD / NQR / NRR 5.2L (4HK1-TC Diesel)
– NPR / NPRHD 6.0L Gasoline
– FTR / FVR / FXR 7.8L (6HK1-TC Diesel)
– HTR / HVR / HXR 7.8L (6HK1-TC Diesel)
2004
Isuzu / Chevrolet or GMC
– NPR / NPRHD / NQR 4.8L (4HE1-TC Diesel)
– NPR / NPRHD 6.0L Gasoline
– FRR 7.8L (6HK1-TC Diesel)
– FTR / FVR / FXR 7.8L (6HK1-TC Diesel)
2003
Isuzu / Chevrolet or GMC
– NPR / NPRHD / NQR 4.8L (4HE1-TC Diesel)
– NPR / NPRHD 5.7L Gasoline
– NPR / NPRHD 6.0L Gasoline
– FRR 7.8L (6HK1-TC Diesel)
2002-2000
Isuzu / Chevrolet or GMC
– NPR / NPRHD / NQR 4.8L (4HE1-TC Diesel)
– NPR / NPRHD 5.7L Gasoline
– FRR 7.8L (6HK1-TC Diesel)
– FSR / FTR / FVR 7.8L (6HK1-TC Diesel)
1999
Isuzu / Chevrolet or GMC
– NPR / NPRHD / NQR 4.8L (4HE1-TC Diesel)
– NPR / NPRHD 5.7L Gasoline
– FSR / FTR / FVR 7.8L (6HK1-TC Diesel)
1998
Isuzu / Chevrolet or GMC
– NPR 3.9L (4BD2-TC Diesel)
– NPR / NPRHD 5.7L Gasoline
– FRR 7.1L (6HE1-TC Diesel)
– FSR / FTR / FVR 7.1L (6HE1-TC Diesel)
– FSR / FTR / FVR 7.8L (6HE1-TC Diesel)
1997-1995
Isuzu / Chevrolet or GMC
– NPR 3.9L (4BD2-TC Diesel)
– NPR 5.7L Gasoline
– FRR 7.1L (6HE1-TC Diesel)
– FSR / FTR / FVR 7.1L (6HE1-TC Diesel)
1994
Isuzu / Chevrolet or GMC
– NPR 3.9L (4BD2-TC Diesel)
– NPR 5.7L Gasoline
– FSR / FTR / FVR 6.5L (6BG1-TC Diesel)
– NRR 6.5L (6BG1-TC Diesel)
1993
Isuzu / Chevrolet or GMC
– NPR 3.9L (4BD2-TC Diesel)
– NPR 5.7L Gasoline
– FSR / FTR 6.5L (6BG1-TC Diesel)
– NRR 6.5L (6BG1-TC Diesel)
1992
Isuzu / Chevrolet or GMC
– NPR 3.9L (4BD2-TC Diesel)
– FSR / FTR / FVR / EVR 6.5L (6BG1-TC Diesel)
– NRR 6.5L (6BG1-TC Diesel)
1991
Isuzu / Chevrolet or GMC
– NPR 3.9L (4BD2-TC Diesel)
– FSR / FTR 5.8L (6BD1-T Diesel)
– FSR / FTR 6.5L (6BG1-TC Diesel)
– FVR / EVR 6.5L (6BG1-TC Diesel)
– NRR 6.5L (6BG1-NA Diesel)
1990
Isuzu / Chevrolet or GMC
– NPR 3.9L (4BD2-TC Diesel)
– FSR / FTR 5.8L (6BD1-T Diesel)
– FSR / FTR 6.5L (6BG1-TC Diesel)
– FVR / EVR 6.5L (6BG1-TC Diesel)
– NRR 6.5L (6BG1-NA Diesel)
– FVR / EVR 8.4L (6SA1-T Diesel)
1989-1988
Isuzu / Chevrolet or GMC
– NPR 3.9L (4BD1-T Diesel)
– FSR / FTR 5.8L (6BD1-T Diesel)
– NRR / FSR 6.5L (6BG1-NA Diesel)
– FVR / EVR 8.4L (6SA1-T Diesel)
1987
Isuzu / Chevrolet or GMC
– NPR 3.9L (4BD1-NA or 4BD1-T Diesel)
– FSR 5.8L (6BD1-T Diesel)
– FSR 6.5L (6BG1-NA Diesel)
1986
Isuzu / Chevrolet or GMC
– NPR 3.9L (4BD1-NA or 4BD1-T Diesel)
1985
Isuzu
– KS22 3.9L (4BD-1 Diesel)
ISUZU US-IDSS II Free Download:
IDSS II 2019
https://mega.nz/#F!5XRUTCrD
US-IDSS 04.2020 100% Work
ISUZU US-IDSS Diagnostic Software for USA/Canada 100% Work