What is CH341A USB Programmer?
CH341A is an USB interface chip that can emulate UART communication, standard parallel port, memory parallel port and synchronous serial (I2C, SPI). The chip is manufactured by Chinese company Jiangsu QinHeng Ltd. CH341A is used by some cheap memory programmers. The IC is somehow limited in this configuration, because the programmer makes use only of the SPI and I2C interface and leaves a lot of pins unconnected. A popular device is the black CH341A Mini Programmer that you can buy for 2 to 5 USD.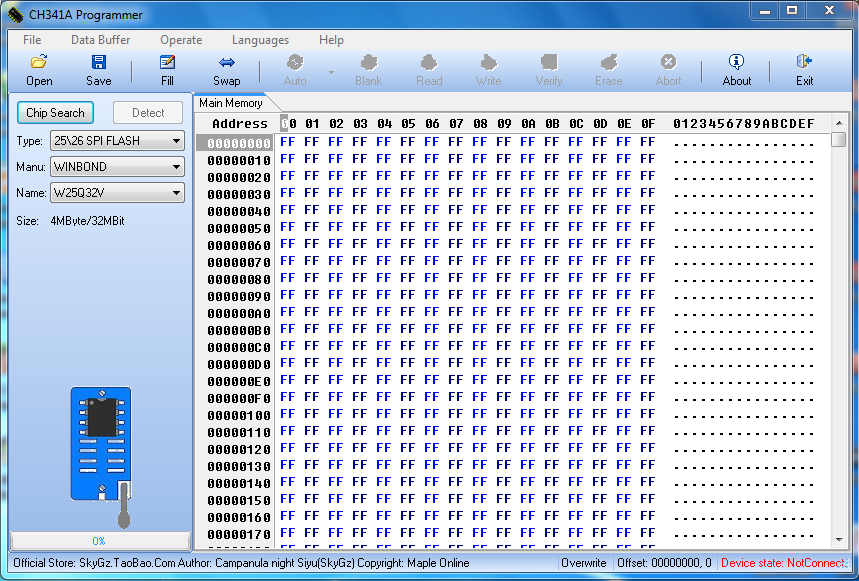 CH341A USB Programmer Software Features:
USB 2.0 Interface supported
Auto detect BIOS chips
Support 24 and 25 SPI flash 8 pin/16 pin chips
All type of 25 series BIOS
Provide 5V-3.3V power supply output
Support 32/64 bit Windows XP,Windows Vista,Win7,Win8,Win10
CH341A USB Programmer Technical Specifications:
Support 24EEPROM and 25 SPI flash 8pin/16pin chip
USB to TTL port, can getroot online
With CH341A chip
Recognize 25 series chip automatically
And support download STC series procedure of singlechip
With 24/25 status indicator lamp
SPI pin to support expanding the utility
For a variety of software for backup, erase, programming, calibration and other movements.
CH341A USB Programmer Support Chip List:
Satellite or Dish TV Receiver Flash IC(25 series)
Analog Color TV Set Memory/Flash IC (24 Series)
LCD (24.25 series IC)
Desktop Motherboard BIOS Program (25 series)
Notebook/Laptop Flash IC(25 Series)
WIFI/Network Router (25 Series)
Universal TV Card (25 Series)
DVD Flash IC (25 Series)
Set-top Boxes (25 Series)
CH341A USB Programmer Interface
Organizer USB Programmer CH341A Series Burner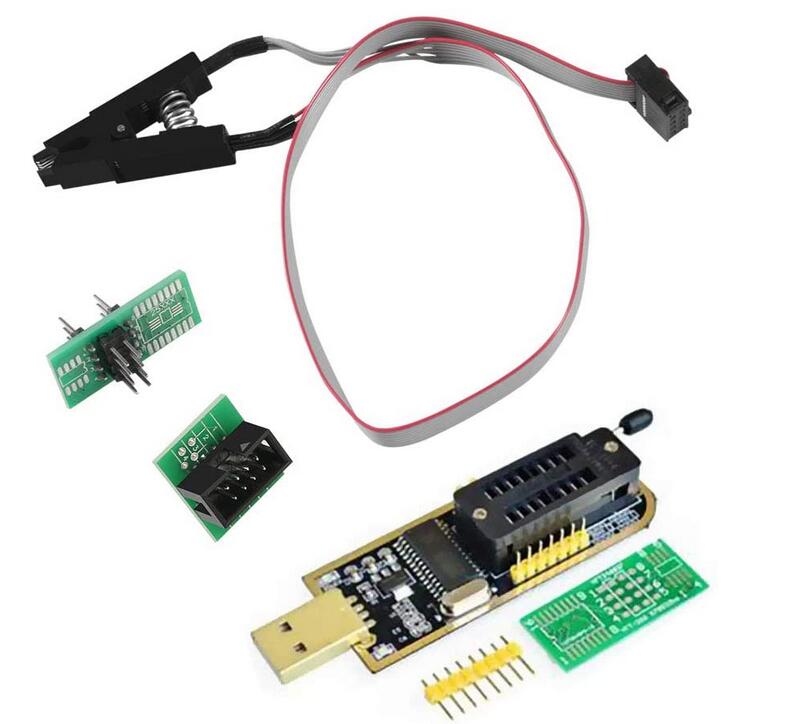 CH341A USB Programmer Software Free Download
CH341SER.EXE 1.4.0
CH341SER.EXE – self installing archive with USB to serial driver.
CH341PAR.EXE – self installing archive with multiprotocol interface driver (this one is for the programmer mode)
CH341SER.ZIP – archive containing driver files and serial API and library (you don't need specific API for standard serial port, but it contains some special functions to get IC version etc.)
CH341PAR.ZIP – archive containing driver files for interface mode and API (header and library to access the device and use any protocol you want).
CH341PAR_LINUX.ZIP – archive containing Linux driver source code and Linux API
CH341SER_LINUX.ZIP – Linux driver source code for serial port (don't need this one, it's already included in kernels)
CH341EVT.ZIP – some source code and tools written to be used with an evaluation board (may be useful for programming software that can access this device)
CH341DS1.PDF – datasheet, in Chinese
CH341DS2.PDF – some additional info and API documentation, in Chinese
CH341DP.ZIP – contains an ISP programming tool?
CH341DPS.ZIP – probably similar to the above, once required login to download
How Install CH341A Programmer Software?
After downloading,you will get files show as below,open "CH341A Programmer v1.4" folder
Run "CH341AFree.exe" directly,it no need install.
Just run it and use it directly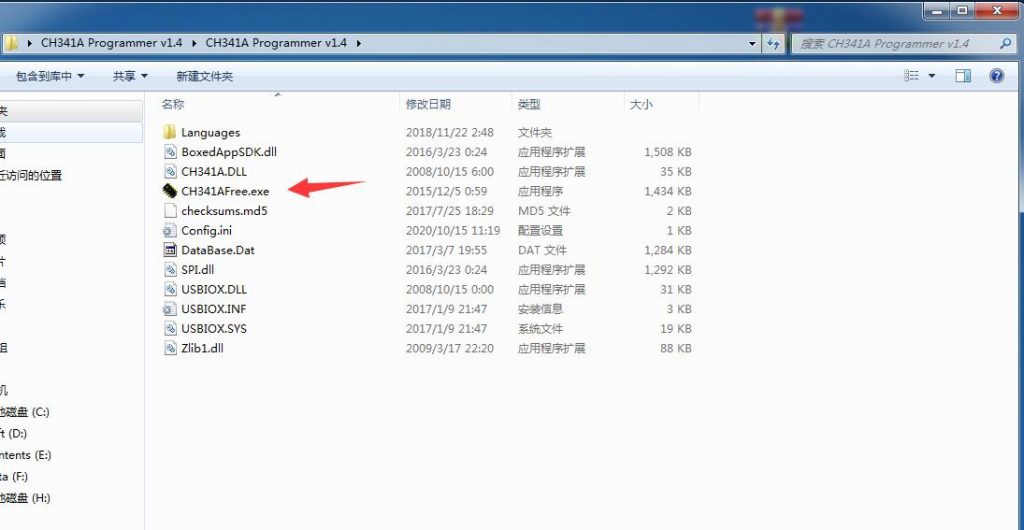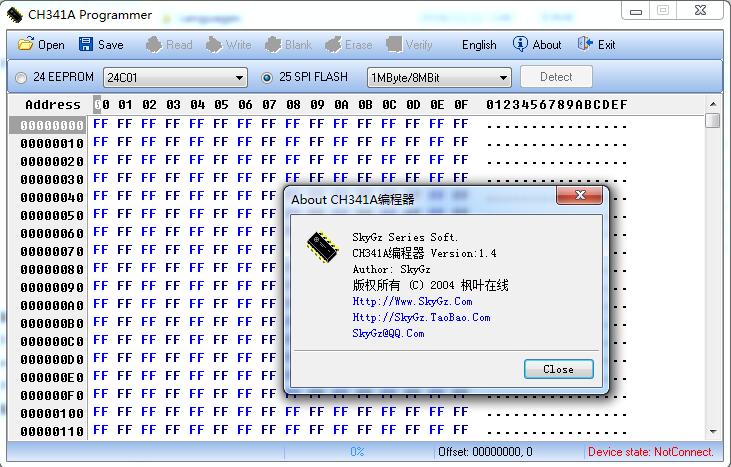 CH341A USB Programmer FAQs:
Q 1:Can i program chips for cars
A 1:Yes,you can use it to read/write some chip on car
Q 2: What software did you use for re-flashing 93cXX chip?
A 2:Search for "ch341a spi software". You'll find plenty of options.
Q 3:Will this work for vbios (graphics cards)?
A 3:B07V2M5MVH
Organizer SOIC8 SOP8 Test Clip For EEPROM 93CXX / 25CXX / 24CXX + CH341A 24 25 Series EEPROM Flash BIOS USB +1.8V Adapter + Soic8 Adapter Programmer Module Kit
CH341A USB Programmer Reviews:
Review 1:
Easy to use is sort of a relative thing with this sort of product, isn't it? Hopefully you are a bit past double clicking on drives and hoping for an auto-installer, if you are purchasing this kind of product. But it worked as expected.
Review 2:
If your buying this you should already know what you need it for, so no manual really needed. I used it to program a UEFI chip on a Mac Mini and it worked great, even came with the socket / adapter for it. No read errors ever. A++
Review 3:
I bought this after a BIOS update glitched out and seemingly killed my motherboard (ASUS AM1 mini-ITX for an HTPC). The process was a bit convoluted and took longer than it should have, but this device finally got my motherboard back up and running.
The BIOS chip I flashed was socketed. After some research and much trial and error, it finally came back to life. I had to find a specific version of the software for this device online (that was compatible with my particular BIOS chip), then I had to slightly modify the BIOS update file from ASUS's website with another program, then I had to figure out some quirks with the hardware itself. Even for an IT professional like myself, it was annoying and a bit of a learning curve, but a fun challenge to overcome.
Had to knock off one star for the lack of documentation, quirkiness, and amount of research involved just to use this device properly. I understand it's difficult to make a device like this idiot-proof, but having reliable documentation, reliable software download sources, and tutorial videos from the manufacturer would be appreciated. If you tried this and it didn't work, try not to give up. It's a pain to use and figure out.