What is Renault Impact Truck EPC?
This Renault Impact is a web-based system that supports the workshops with information about Parts, Components, Standard parts, Service, Standard time, and Tools.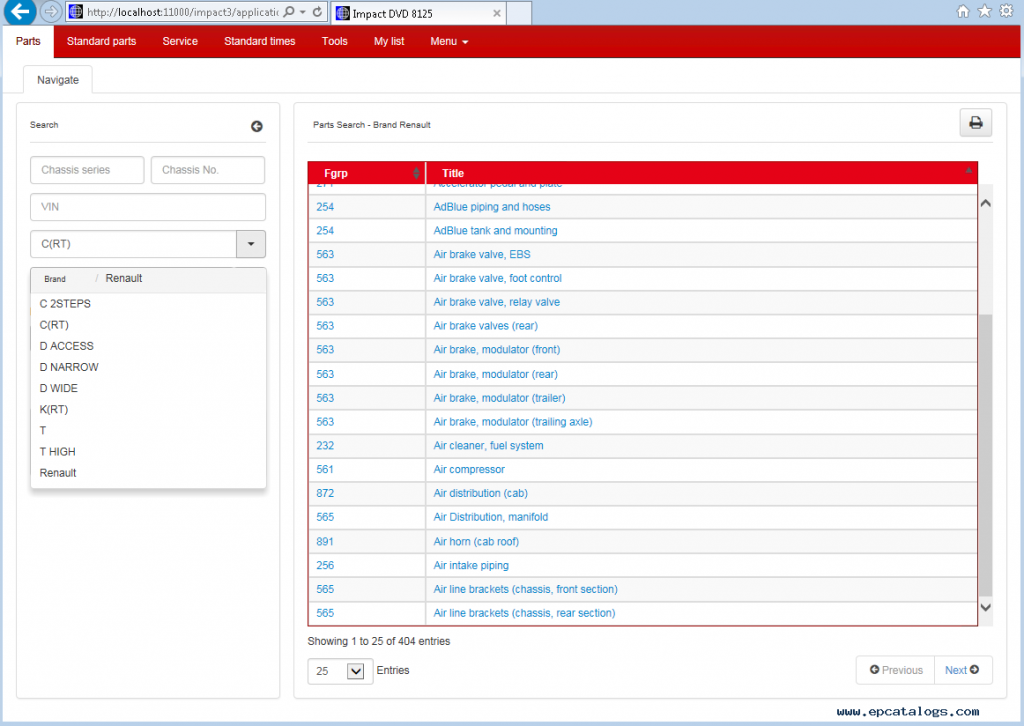 Renault Impact Truck EPC Functions List:
Service information includes bulletins/information, description, design, and function, diagnostics, forms, general information, repair, schematic diagrams, service and maintenance, specifications. Parts information covers parts catalog, chemicals, exchange, TPI.
Renault Impact Truck EPC Support Systems:
0: General
1: Service and maintenance
2: Motor, motor mount and equipment
3: Electrical system and instruments
4: Power Transmission
5: Brakes
6: Suspension and steering wheel
7: frame, springs, damping and wheels
8: bodywork and interior cabin
9: Miscellaneous
Renault Impact Truck EPC Support Languages:
English, Dutch, Spanish, Italian, German, Russian, Turkish, French, Swedish
Renault Impact Truck EPC Download Link:
Renault Impact Truck EPC 2018 Full
https://drive.google.com/open?id=1Gw1jMTbkShcmWPuquS_AxkvkBw9ir83l
Renault Impact Truck EPC Support Models:
Renault C 2STEPS Series Construction Trucks
Renault C(RT) Series Construction Trucks
Renault D NARROW Series Distribution Trucks
Renault D WIDE Series Distribution Trucks
Renault K(RT) Series Heavy Construction Trucks
Renault T Series Long Haul Trucks
Renault T HIGH Series Long Haul Trucks