What is Paccar ESA Electronic Service Analyst?
Electronic analyst Paccar Electronic Service Analyst 5.3.1.0 is a diagnostic tool that is used for vehicle diagnostics and firmware updates. The application provides data exchange between the PC and Vehicle controller.
The Electronic Service Analyst (ESA) is a PC-based diagnostic tool similar to Cat ET or Cummins INSITE. ESA communicates over a Data Link Adapter to the NAMUX components. A technician can use ESA to detect fault codes in the components, verify and troubleshoot new electronic instrumentation functionality, flash the control unit, program parameters and diagnose the root cause of the problems.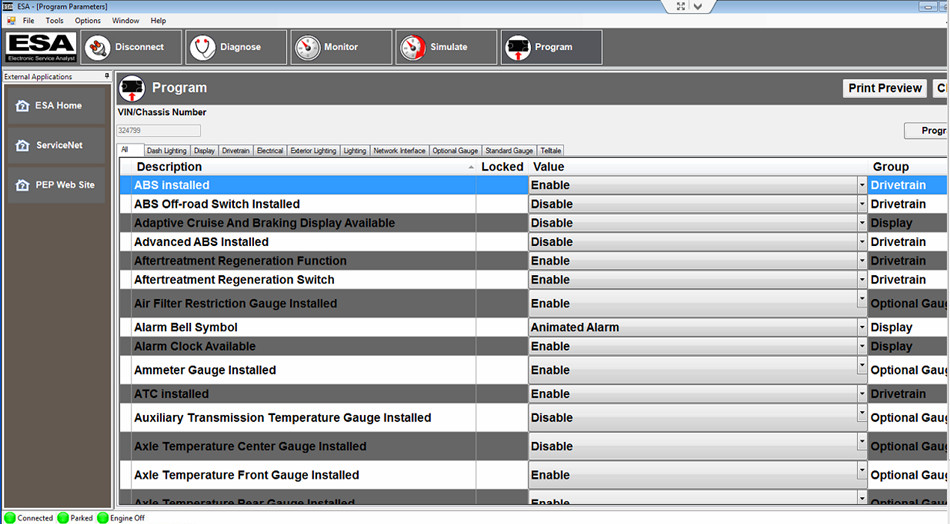 Paccar ESA Electronic Service Analyst Installation Requirements:
– O.S.: Windows XP, Windows Vista, Windows 7, Windows 8, Windows 8.1, Windows 10
– CPU: Pentium/Athlon 2 GHz or higher
– RAM: 512 MB of system memory
– Hard Drive: 1 GB of available space
– Optical Drive: CD-ROM
Paccar ESA Electronic Service Analyst Free Download
https://mega.nz/file/GAxzzRIT#quiFYp-gEgqfU3zfMdL5blHzn9G3iZ-C9zOH1pRCUQ0
Paccar ESA Electronic Service Analyst Coverage:
1500
1602
1700 Rev1
Boot-loader
P30-1002-105 new
P30-1002-107 new
P30-1002-109 new
P30-1002-110 new
P30-1009-110 new
P30-1011-105 Rev5
P30-1011-106 Rev5
P30-1011-108 Rev7
P30-1011-111 Rev7
P30-1011-113 Rev7
P30-1011-116 Rev2
P30-1011-117 Rev1
P30-1011-121 Rev1
P30-1011-123 Rev2
P30-1011-124 Rev3
P30-1011-129 Rev5
P30-1011-130 Rev4
P30-1011-134 Rev3
P30-1011-137 Rev6
P30-1011-139 Rev3
P30-1011-142 Rev2
P30-1011-143 Rev4
P30-1011-144
P30-1011-145
P30-1011-146
P30-1011-147
P30-1014-003 Rev5
P30-1014-100 Rev5
P30-1014-104 Rev5
P30-1014-105 Rev5
P30-1014-106 Rev5
P30-1014-107 Rev5
P30-1014-108 Rev5
P30-1014-110 Rev1
P30-1014-111
P30-1014-112 Rev2
P30-1014-113 Rev4
P30-1014-114 Rev3
P30-1014-115
P30-1014-116
P30-1014-117 new
P30-1015-103 Rev3
P30-1015-104
P30-1015-106
P30-1015-107
P30-1015-108
P30-1015-109
P30-1015-110
P30-1015-111
P30-1015-113
P30-1015-114
P30-1015-117
P30-1015-119
P30-1019-102
P30-1029-104
P30-1030-102 Rev6
P30-1030-103 Rev6
P30-1030-104 Rev6
P30-1030-105 Rev7
P30-1030-106 Rev1
P30-1030-109 Rev3
P30-1030-111 Rev3
P30-1030-112 Rev6
P30-1030-114 Rev4
P30-1030-116 Rev6
P30-1030-118
P30-1030-119 new
P30-1031-102 Rev5
P30-1031-104 Rev5
P30-1031-107 Rev6
P30-1031-111 Rev6
P30-1031-112 Rev4
P30-1031-116 Rev3
P30-1031-118 Rev1
P30-1031-119 Rev2
P30-1031-121 Rev4
P30-1031-122
P30-1032-002 Rev6
P30-1032-003 Rev5
P30-1032-100 Rev5
P30-1032-104 Rev3
P30-1032-105
P30-1032-106 Rev1
P30-1033-006
P30-1033-101
P30-1033-102
P30-1033-103 Rev1
P30-1033-105 Rev1
P30-1033-106
P30-1033-107
P30-1033-108
P30-1041-007
P30-1041-013 Rev2
P30-1041-019
P30-1041-023
P30-1041-101 Rev1
P30-1041-102
P30-1041-103 Rev1
P30-1041-104
P30-1041-106
P30-1041-108
P30-1041-109
P30-1041-110
P30-1041-111
P30-1042-111
P30-1041-112
P30-1042-113
P30-1042-114
P30-1042-115
P30-1042-116
P30-1042-117
P30-1042-119
P30-1042-211 new
P30-1042-213 new
P30-1042-216 new
P30-1042-217 new
P30-1042-219 new
P30-6037-0104
The previous paccar ESA SW list:
1. Instrument Cluster Software
P30-1015-104 – 30.08.2013
P30-1015-106 – 01.04.2014
P30-1015-107 – 23.10.2014
P30-1015-108 – 12.02.2015
P30-1015-109 – 05.06.2015
P30-1015-110 – 20.06.2016
P30-1015-111 – 23.01.2017
P30-1015-113 – 01.02.2018
P30-1015-114 – 01.08.2018
2. Chassis Node Software
P30-1012-103 – 06.05.2010
3. Cab Electronic Control Unit Software
P30-1002-105 – 22.08.2007
P30-1002-107 – 01.08.2008
P30-1002-109 – 01.04.2009
P30-1003-100 – 31.07.2006
P30-1008-103 – 22.06.2010
P30-1008-110 – 18.01.2011
P30-1009-110 – 12.02.2015
P30-1011-144 – 12.04.2018
P30-1014-108 – 28.03.2014
P30-1014-111 – 21.08.2014
P30-1014-112 – 23.01.2015
P30-1014-113 – 04.09.2015
P30-1014-114 – 16.08.2016
P30-1014-115 – 23.01.2017
P30-1014-116 – 06.11.2017
P30-1017-104 – 19.04.2011
P30-1018-100 – 04.03.2011
P30-1019-101 – 01.06.2011
P30-1019-102 – 28.10.2014
P30-1029-103 – 09.05.2012
P30-1029-104 – 28.10.2014
P30-1030-116 – 20.10.2017
P30-1031-121 – 20.10.2017
P30-1032-003 – 09.07.2013
P30-1032-100 – 04.09.2013
P30-1032-105 – 08.08.2014
P30-1032-106 – 17.10.2014
P30-1041-013 – 08.08.2017
P30-1041-019 – 12.15.2017
P30-1041-023 – 12.02.2018
P30-1041-101 – 02.05.2018
4. HVAC Software
P30-1033-006 – 09.03.2012
P30-1033-101 – 03.03.2012
P30-1033-102 – 01.02.2013
P30-1033-106 – 06.10.2016
6. PACCAR Display Software
P30-6037-0104 – 07.12.2011
1500 – 05.03.2012
1602 – 05.08.2012
1700 – 15.09.2014 rev1