What is Kubota Diagmaster?
Kubota Diagmaster is special diagnostic software for Kubota machine equipment.With new features like Automatic Vehicle Detection,Data Recording and Trouble Shooting Guidance, the Diagmaster platform offers all of the diagnostic information needed for advanced trouble shooting. The unique design makes it simple to expand and update to support new management systems and vehicles.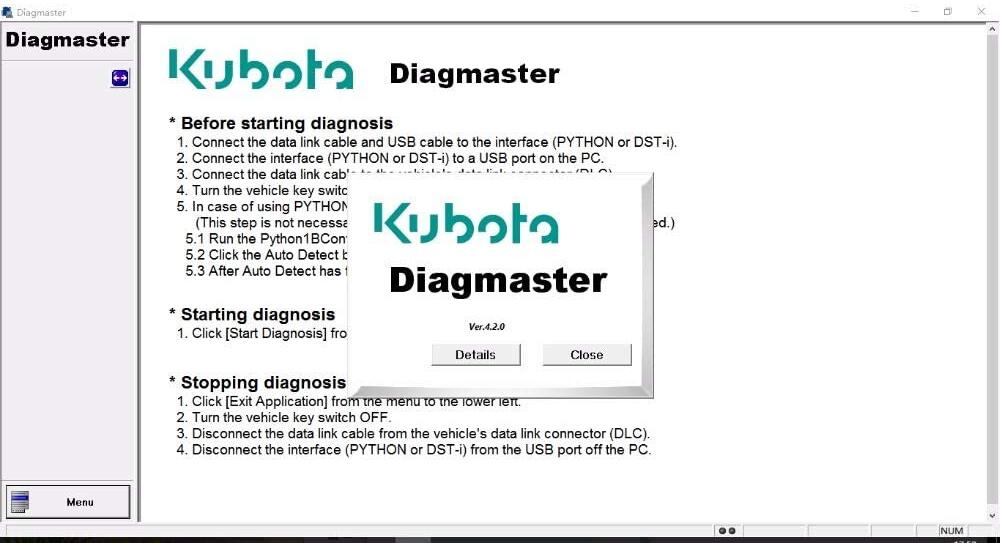 Kubota Diagmaster High-Tech Features:
• Clear Trouble Codes.
• Data Recording.
• Extensive Data Monitoring and simultaneous Active Tests.
• Active Tests.
• Manage Projects.
• Injector Compensation.
• Vehicle ECU Memory Reset.
• Injection Quantity Correction.
• MAF Correction.
• Fuel Pump Learning Value Clearing.
Kubota Diagmaster Supported languages:
English, German, French, Italian, Spanish, Japanese.
Kubota Diagmaster Installation PC Requirements :
Windows 7 32 bit (x86) ,Windows 7 64 bit (x64)
Windows 10 32 bit (x86),Windows 10 64 bit (x64)
Kubota Diagmaster Free Download
Kubota Diagmaster v 4.1.2
https://mega.nz/file/55NT1QpT#_WdKkcdO_bbRo7RCi5m8zCQY_sdtYDaEeC1vA_rUS1g
Diagmaster DB For Kubota With 03.05 Ver4.2.0.rar
https://drive.google.com/file/d/1wBlbFFuTWO33MDyhMmvHa6cWtC-W2-yj/view