CG100 vs CGpro 9s12 vs CG FC-200 what is the difference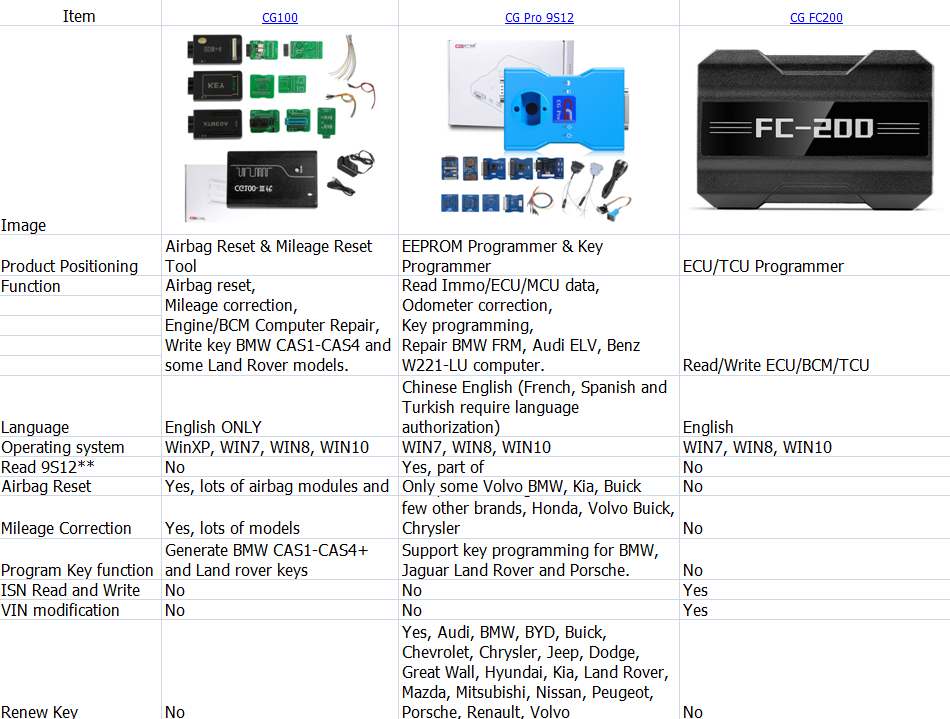 FC200 is different from the other two, FC200 is made to read ECU/TCU data via OBD, Bench or boot. It will do not airbag, mileage and key functions like CG100/CGPro.
CG Pro 9S12 & CG100:
CG100 is good for airbag and dashboard.
CGPro is good for Mercedes, BMW and better as programmer than cg100.
CG100 does have BMW CAS1-CAS4 and Land rover key option, but only can be used to write key. You need to read CAS/KVM data by other eeprom programmer.
But cgpro will generate key via eeprom data as well.
CGPro will make key for BMW EWS1-EWS4 and CAS1-CAS4+ (both add key and all keys lost). All requires to remove the IMMO box (cannot do them via OBD).
For example, CGPro can read CAS4 5M48H immo data and write key, standalone, don't need another device.
NOTE. Pro CANNOT do FEM/BDC key programming. CGPro will also make key for Jaguar Land Rover KVM and Porsche BCM (check coverage on webpage).
CG100 and CGPro read different chips, cgpro will read 9S12 encrypted chips, cg100 cannot. CG100 will read the S6J3001*** chip for Japanese Toyota/Honda mileage correction , cgpro does not. CG100 will repair Mercedes 48V battery, Volvo 48V battery, and Porsche 12V Lithium battery, cgpro cannot.
In sum, CGPro is for pulling eeprom data. CG100 for airbag & mileage repair and modification. FC200 for reading VIN, pulling/cloning ECU and Gearbox data.