In the market for a high-end diagnostic tool?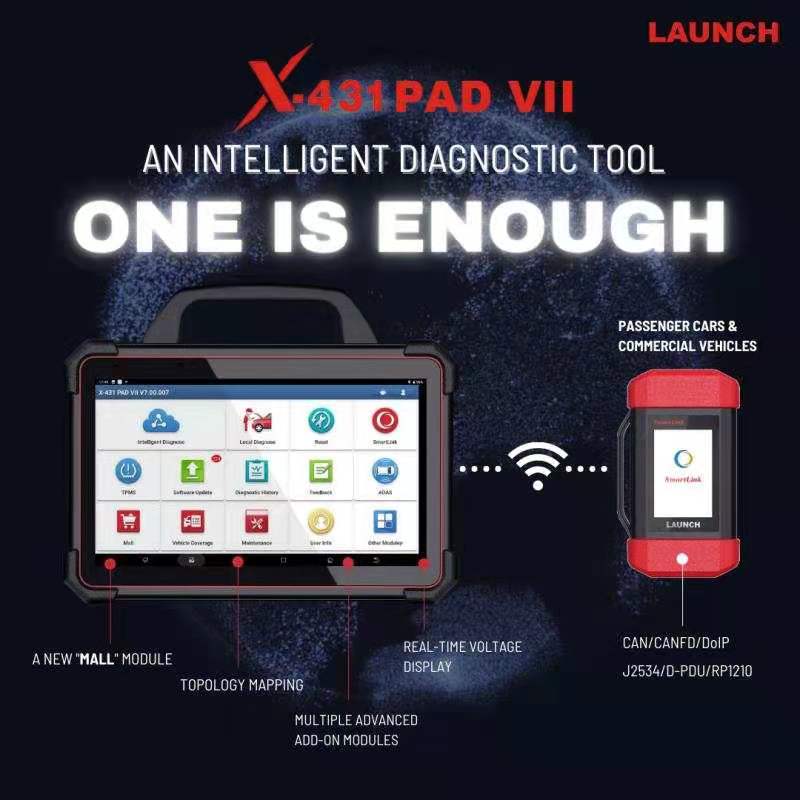 The Launch X-431 PAD VII is packed with fantastic features and features aimed at the professional auto technician. From ADAS calibration to 32 service functions and more, the PAD VII is a complete diagnostic solution.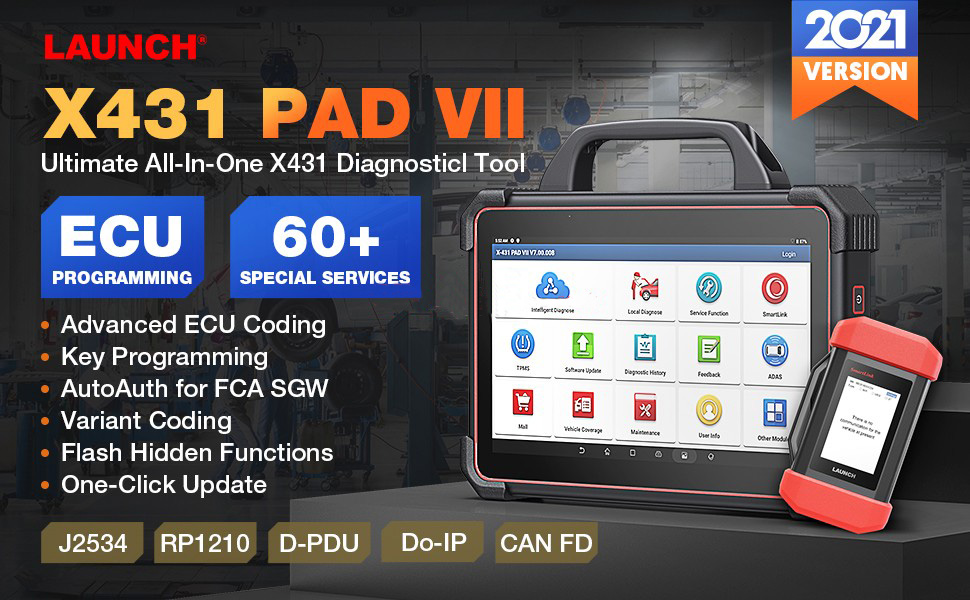 Let's take a detailed look at what the device has to offer and is it really worth the hype.
Reason 1: Powerful hardware
The PAD VII is a powerful device because it has solid specifications enough to do anything you throw at it. The following table shows the hardware specifications for this diagnostic tool.
| | |
| --- | --- |
| Description | Specifications |
| Screen | 13.3-inch IPS touchscreen display |
| Screen Resolution | 1920×1080 |
| Processor | 2.0 GHz Octa-core |
| Operating System | Android 9.0 |
| RAM | 8GB |
| Storage | 256GB |
| Camera | Front 8MP, Rear 13MP |
| Battery | 19,000 mAh |
| Connectivity | Wi-Fi, Smart Link C |
The Launch PAD VII has impressive hardware. With a 13.3 inch IPS touchscreen display with a 1920×1080 resolution, the device sits at the high-end of the diagnostic market. The scan tool comes with a 2.0 GHz Octa-core processor backed by 8GB of RAM, specs auto technicians would love to hear.
The operating system also complements the processing hardware. Running on Android 9.0, the device is capable of seamless and fast performance. It provides a fantastic user experience making diagnostics more user-friendly.
The OBD2 scanner comes with ample storage. Featuring a 256GB internal memory, it can simultaneously record data while you perform features and functions. The storage space is more than enough, even for an intense user like me.
What bugs many auto professionals is the small battery packs in scan tools. However, the PAD VII packs 19,000 mAh of power, enough to last you through your busy day at the garage and then more.
The device features two cameras, a front 8 MP and a rear 13 MP help users take pictures to share them with their auto technician circle for troubleshooting help if need be. It comes with a Smart Link device that connects to any vehicle's OBD2 port and allows auto technicians to help their customers with troubleshooting remotely using the internet.
Reason 2: Supports dozens of advanced features
Besides the advanced hardware, the Launch PAD VII comes packed with all the features you would expect a high-end device to have. Check the table below to see what the device has to offer.
| | |
| --- | --- |
| Description | Features |
| Full system diagnostics | Access to all vehicle modules and capable of 10 basic modes |
| Reset functions | Brake, TPMS, oil, and SAS reset, ABS bleeding, immobilizer, and more |
| Bidirectional control | Supports EGR test, EVAP test, pump and valve test, and more |
Full system diagnostics
The scan tool is capable of full system diagnostics. It can tap into all modules of the vehicle and read and erase fault codes. Besides DTCs, the device can perform all ten basic modes such as:
* VIN
* Live data and graphical representation
* Freeze frame
* I/M readiness
* And more
The topology mapping is a great feature that summarizes the diagnostic results and any system malfunctions in a visual image of the car allowing for a holistic view.
The device is also capable of remote diagnostics. Auto technicians can better serve their customers remotely (at other garages) using the Smart Link C. Technicians can send and receive messages to each other using PAD VII. It helps save time and increases work efficiency.
Besides the in-built diagnostic capabilities, users can purchase apps from their new online "mall" store and expand their range of functions or update them. You can even have the ADAS calibration feature by downloading it from the online store but for that, you would need to buy a separate calibration device from the manufacturer.
Reset functions
Replacing components and parts in a vehicle requires a quick system reset for efficient usage and the Launch PAD VII is capable of doing just that. The device can perform 32 different advanced service functions that include:
* Service lamp reset
* Brake reset
* Battery reset
* SAS reset
* TPMS reset
* ABS bleeding
* And many more
Bidirectional control, programming, coding
The Launch PAD VII is capable of advanced online coding and programming functions. Users don't need to do physical code inputs on the device but tap on the many different available online coding.
The diagnostic tool has bidirectional control for cars and commercial vehicles allowing users to conduct the following actuation tests:
* EGR test
* Pump and valve test
* Acceleration device test
* Compression test
* Cylinder balance test
* And more
The vehicle has superb compatibility and can run on over 110 different car brands across Australian, Asian, European, USA, and the Chinese market.
Reason 3: The best version of the X-431 Pad series
The Launch PAD VIII is considered the most advanced of the X-431 series and ranks above the PAD V and PAD III v2.0 when it comes to hardware and functionalities.
Check the comparison table below to see how the PAD VII compares against its predecessors.
| | | | |
| --- | --- | --- | --- |
| Description | PAD III v2.0 | PAD V | PAD VII |
| Display/Resolution | 10.1-inch IPS 1900×1200 | 10.1-inch IPS 1900×1200 | 13.3-inch IPS 1920×1080 |
| Processor | 2.0 GHz Octa-core | 2.0 GHz Octa-core | 2.0 GHz Octa-core |
| RAM | 2GB | 4GB | 8GB |
| Storage | 64GB | 64GB | 256GB |
| Battery | 15,000 mAh | 9,360 mAh | 19,000 mAh |
| Features | | | |
| Diagnosis functions | Full system diagnoses and OBD2 full functions | Full system diagnoses and OBD2 functions | Full system diagnoses and OBD2 functions |
| Advanced functions | Bi-directional control, advanced coding, and programming | Bi-directional control, advanced coding, and programming | Bi-directional control, advanced coding, and programming |
| Smart Link remote diagnosis | No | No | Yes |
| Service functions | Capable of 21 service functions including brake, oil, SAS reset, and more | Capable of 26 service functions including windows calibration, A/F reset, and more | Capable of 32 service functions including ACC calibration, GPF regen, and more |
Although all three devices have a similar chipset, the PAD VII delivers stunning performance with its 8GB RAM. The larger 13.3-inch screen, bigger 19,000 mAh battery pack, and vast 256GB of storage make this the best scan tool among the three in terms of hardware.
When it comes to functionalities, the PAD VII offers everything the other two devices are capable of and more. You'll get a complete system diagnosis, OBD2 full functions, bi-directional control, and advanced coding but also have access to smart link remote diagnosis which the other two don't have.
Looking at the service functions, the PAD VII again excels by providing 32 service functions covering basic needs like brake, oil, and SAS reset to high voltage battery health detection, rotation angle sensor calibration, GPF regeneration, and many more. PAD VII also comes with ADAS calibration but you would need a calibration device for it to work.
The PAD VII is the best diagnostic tool from Launch X431 able to perform all your daily diagnosis tasks and more without any hiccups.
Conclusion
The launch has made some pretty serious devices in the past but the PAD VII tops it up with the latest chipset, large screen, bigger battery, exceptional RAM, and storage for days.
Is it worth the investment? As an auto technician, I always look for the best devices to help me better serve my clientele and the PAD VII does just that. Remote diagnosis helps connect with other technicians and save time while the fantastic compatibility is a solid plus.