Autel MaxiTPMS TBE200(E) is a laser-enabled tire tread depth and brake disc wear gauge that provides users with fast and accurate wear measurements. Measure brake disc wear without having to remove tires. It features a 1.65 AMOLED Super Retina touchscreen that displays real-time metrics curves. TBE200 provides uneven wear analysis and detailed replacement and maintenance suggestions for fast tire service. The TBE200 dual cameras allow users to document tire wear and damage and scan the tire identification number (TIN). Use the tool separately or with ITS600 to view and print detailed TPMS reports.
Autel MaxiTPMS TBE200(E) Features:
1. 2022 Newest 2 in 1 Tire Brake Examiner Autel TEB200E
MaxiTPMS TBE200 is a laser (0.1 mm accuracy) tire tread depth and brake disc wear 2in1 examiner. Autel TBE200E is the upgraded version of TBE100E added scan DOT, tire expiration notice, tire recall lookup, take photos of tire wear and damage etc. With 1.65" Amoled super retina touchscreen, dual camera, real-time tire health/uneven wear analysis, full tread measurement, supports almost all tire types, comprehensive test report (Need ITS600E).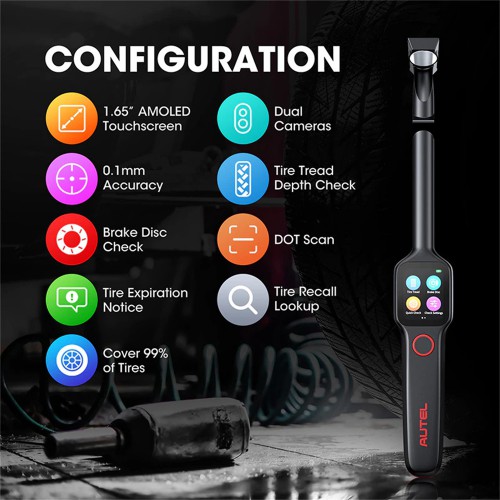 2. Tire Tread Depth & Brake Disc Wear Testers
Why choose TBE200E ? Autel MaxiTPMS TBE200E is not only a laser inspector with a measuring accuracy of 0.1 mm, but also measurements displayed graphically. It is convenient for technics and repair shops to measure tread depth/brake disc wear without removing wheels. Autel tpms tbe200 provides 4 possible results (Gray, Green, Yellow, Red) are represented to the degrees of tire wear/wear status, it can offer analysis to ensure your driving safety.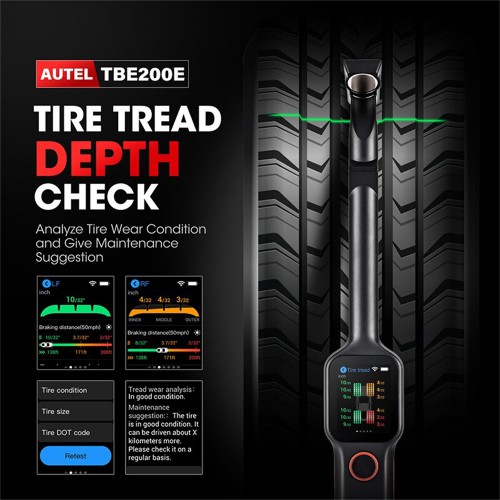 3. Real-Time Tire Health Analysis
Autel TBE200E tread depth reader provides wear analysis and displays the measurement data curves in real-time and service advice on its 1.65-inch-high resolution Super Retina touchscreen AMOLED. The full-color graphical display illustrates wear and provides service advice, including tire and brake disc replacement, tire rotation, and 4-wheel alignment. Adding scan DOT, tire expiration notice, tire recall lookup functions help you get the tire data easier.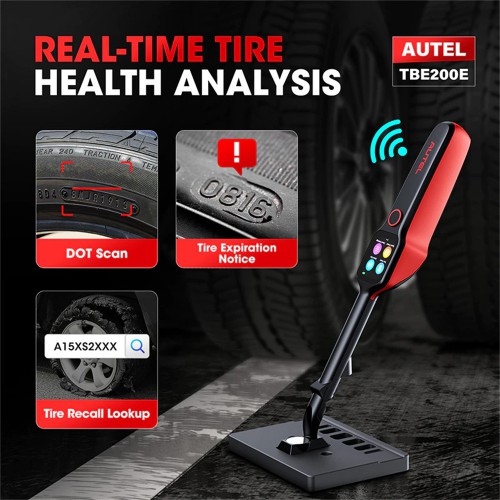 4. Enhancing The TBE200E With the ITS600E
The TBE200E will offer optimal performance when paired with the ITS600E TPMS tool. When used with the ITS600E, The TBE200E will take advantage of the ITS600E's larger screen to collect tire tread and brake disc wear information, combine it with TPMS information from the ITS600E to produce comprehensive vehicle health reports that include detailed information for both service areas. These reports can be printed and presented or kept as records for the repairer.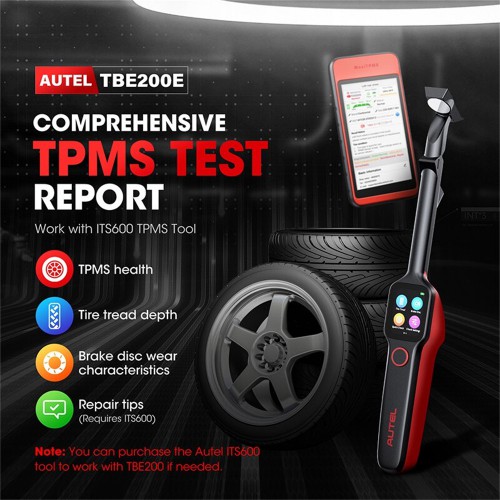 5. Wide Vehicle Coverage
Autel TBE200E TMPS tool not only supports 99% vehicle including passenger cars, off-roads and commercial vehicles, but also compatibility with almost all tire types (Goodyear, Continental, Bridgestone, Dunlop etc) on the market.
How to Use Autel MaxiTPMS TBE200(E):
Step 1: Long press the power button to turn on the tool.
Step 2: Perform Tire Tread Check: On the Main Job screen, tap the Tread Check icon, and place the tool on the tire surface. Short press the power button. Ensure the laser line is perpendicular to the channels of the tire. The screen will display real-time measurement data, slide left to view details.
Step 3: Possible Results for Measurements: Wear status is represented by icon color: A gray icon indicates the tire is untested; green indicates the tire is in good condition
Step 4: Calibration: On the Main Job screen, tap the Calibration icon, and place the magnetic head on the calibration table. Press the power button to start. Wait for 1-2 minutes until calibration is complete.
Calibration frequency: Calibration is recommended every two months. Immediate calibration should be performed if deviations are detected or if the tool is dropped or in some manner mishandled.