Autel XP400 Pro is an upgrade version of XP400, XP400 Pro is a multi-function programming, which not only supports key and chip programming, but also reads and writes odometer. XP400 Pro allows end user to read over 2000 (chips, components, devices) types including EEPROM and MCU Read, works with Autel MaxiIM IM608 IM508 Key Programmer.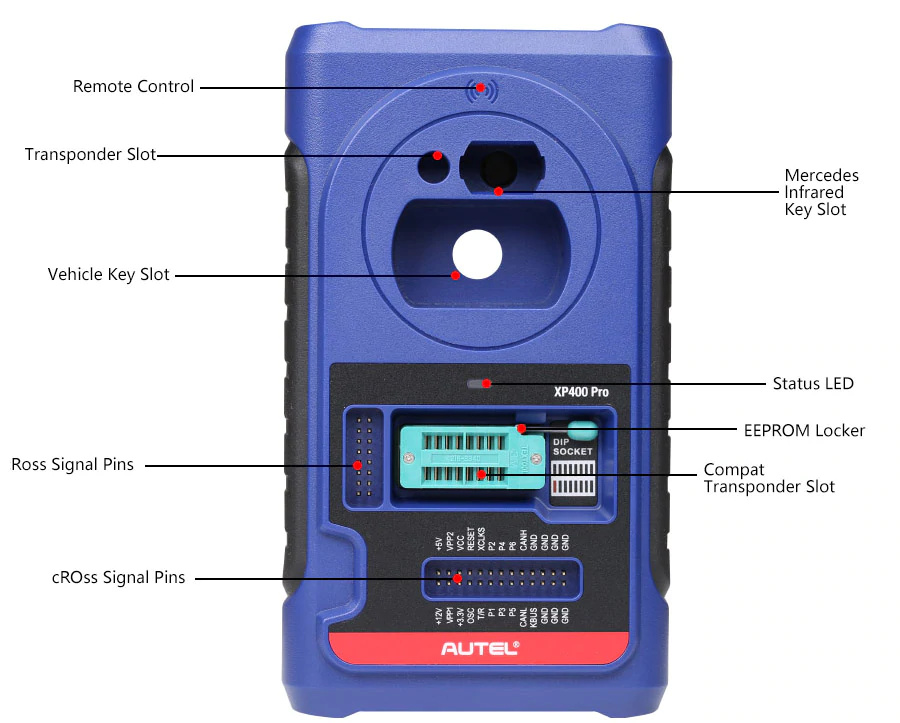 Autel XP400 PRO Programmer Highlight
1. XP400 Pro is an Advanced All-in-One Key Programmer
2. One Year Free Update Online on Autel Official Website
3. Could Be Used with Autel IM508 and Autel IM608, Also IM100 and IM600 as well
(Notice: XP400Pro is compatible with IM100 / IM600. The only thing the IM100 and IM600 will not have when used with XP400Pro is the 4 channel Labscope software and AutoAuth)
4. Supports Key Renewal on 11 Key Types with Additional Adapters – IMKPA, Key Programming Accessories Kit
(Please note that the product does NOT support Read/Write IC Card function. The "IC Card Induction Area" was also removed from XP400 Pro.)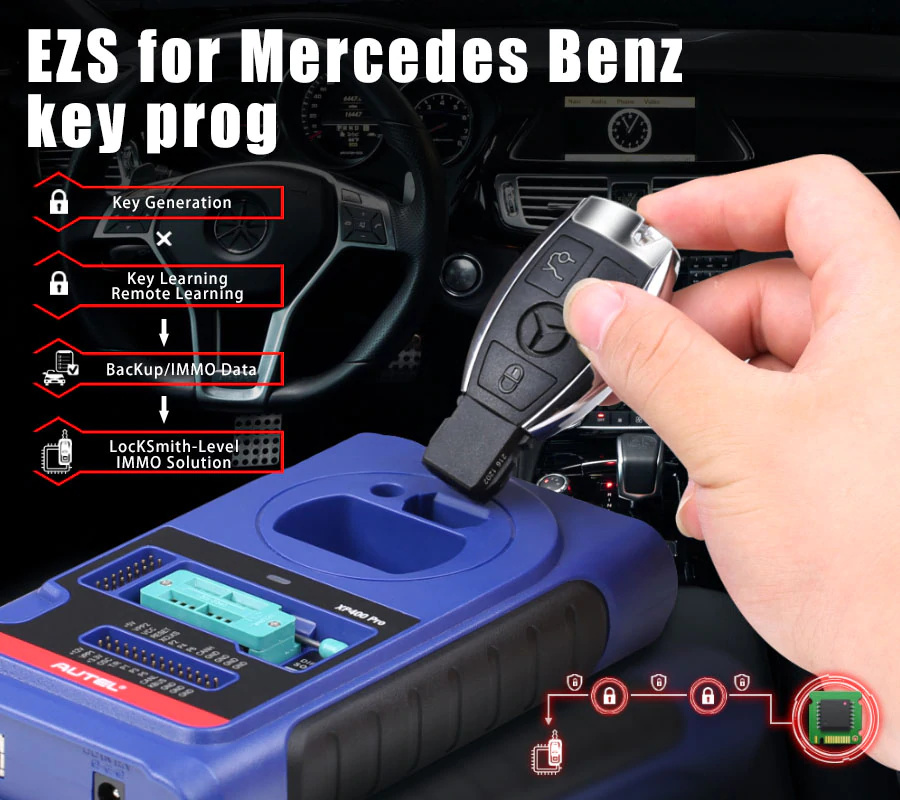 Autel XP400 PRO Powerful IMMO Functions
1. Auto Detect Make/ Model/ Year/ System
2. Read PIN (All Key Lost)
3. Key Learning
4. IMMO ECU Reset/Adaption
5. IMMO ECU Refresh/Coding
6. Remote Learning
7. AUDI Q5/ A4/A5 2015-2017 Key Learning
8. VW MQB Key Learning
9. BMW FEM/BDC Key Learning and Adaption
10. BMW CAS4 Key Learning and Adaption
11. Mercedes Key Learning
12. 2015-2018 Land Rover & Jaguar write key via dump
13. Volvo Smart Key Learning/ knob-style smart key
Programming Functions
1. EEPROM Read/Write
2. MCU Read/Write
3. Key Programming
4. Mercedes Key Read/Write
5. Remote Frequency Detect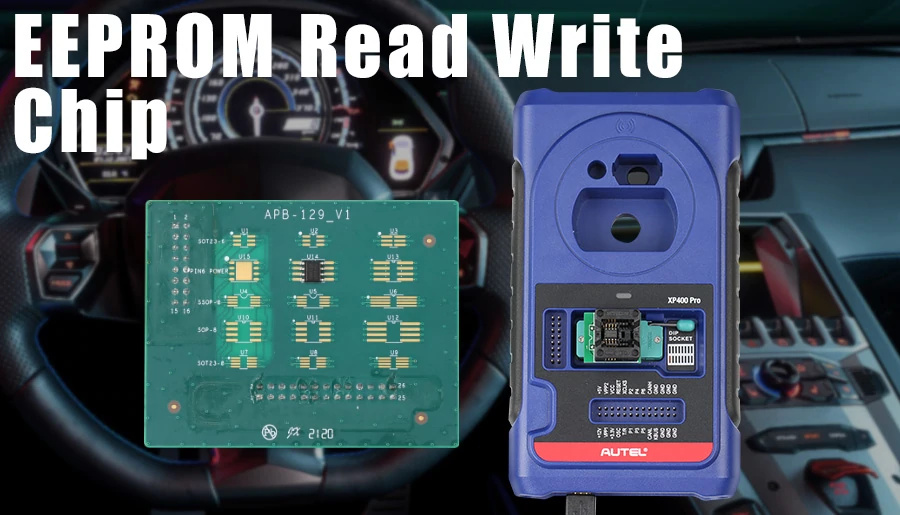 Autel XP400 Pro vs. XP400 vs. Xhorse VVDI Prog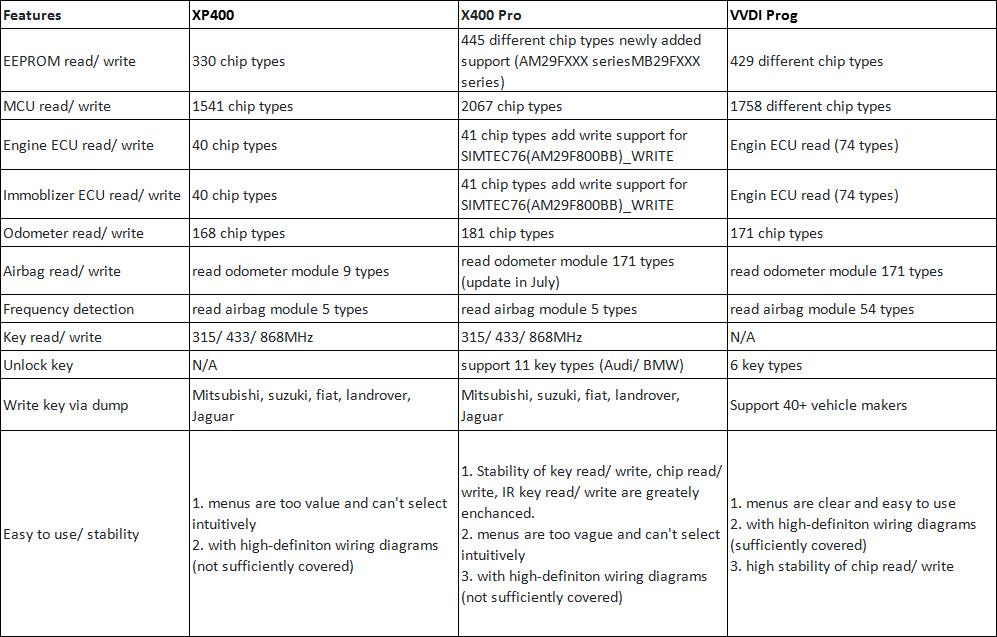 Autel XP400 Pro Supported Chip List
* Expanded EEPROM functions for more component access
* 170+ types odometer component reading functions
* 180+Immobilizer ECU component types
* 40+Egine ECU component types
* 2000+MCU component types
* 400+EEPROM component types.