What is DTS Monaco?
DTS Monaco Software is the official software used by Daimler-Benz development engineers.It is universal engineering test terminal for the diagnosis and control function of the vehicle controller, The name Monaco is derived from the modular analyzer used in vehicle traffic.DTS Monaco covers all the tasks in the field of engineering, testing and production test preparation.
DTS Monaco enables the comprehensive testing of diagnostic communication, diagnostic data and diagnostic sequences in the areas of engineering, testing and preparation of manufacturing tests. It can be adapted flexibly both for a whole range of different test tasks and for different user groups.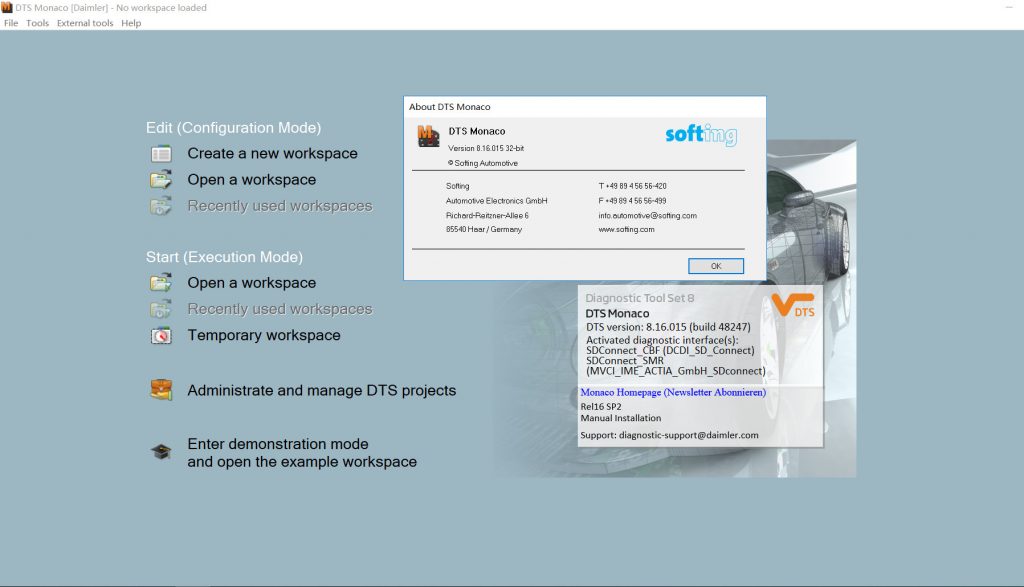 DTS Monaco Functions List:
Testing communication
Analyzing data on the bus
Testing ODX data against ECU
Reading/clearing error memory
Identifying variants
Programming flash memory
Displaying measurement values
Testing actuators
Parameterizing ECUs
Variant coding
Running ECU routines
Testing OBD functions
Creating/executing test sequences
Identifying built-in ECUs
Flexibly Adaptable
DTS Monaco is part of the Diagnostic Tool Set product family and stands for Modular Analyzer for Vehicle Communication. A clearly laid out start page enables simple and fast access to the functions required most frequently. The actual workspace is divided into two: one area with a fixed layout and one with layouts that you can toggle between. A status display below shows communication server messages. The various functions are realized using special, configurable interface elements. These "HMI Controls" can be arranged freely in the layouts in configuration mode and comprehensively configured.
Fast Results
For typical use scenarios predefined tem-plates including an universal database for the OBD selfdiagnosis as well as various protocol templates (WWH-OBD, J1939-73 among others) are supplied. In Demonstration mode, all functions can be tested, even without an interface and a license, using a detailed example including simulation. Furthermore, the tool has a completely integrated OTX runtime for running complex test sequences in accordance with ISO 13209. An authoring tool for creating such OTX sequences can be started directly from DTS Monaco.
Benefits
Reduced costs and familiarization time as DTS Monaco covers the functionality of several tools, previously separate: OBD scan tool, data and bus monitor etc.
Fast results thanks to preconfigured templates
Top quality thanks to early detection and remedy of communication problems and function errors
Highly effective thanks to flexible adaptability to various tasks
Communication data and test results can be fully documented
Early Detection of Problems
In execution mode, a configured workspace can be "started". In doing so individual functions can be started automatically and communication can be established in advance if so required. Selfgenerated test sequences enable both simple and very complex function tests. This makes it possible to detect, and remedy, communication problems and function errors at an early stage. Communication data and test results can be documented in entirety in the process.
DTS FLASH
DTS Flash is an easy-to-use tool based on the ODX standard for flash programming of ECUs. It is possible to program one or more flash sessions of an ECU. As a prerequisite you need ODX data: ODX-D incl. an OEM specific flash job and ODX-F, which contains either the flash programming data or a reference (possibly late-bound) to it. You can reference the data formats HEX, MOT, BIN, S3 and S19.

DTS OBD
DTS OBD is a PC-based tool for validating and releasing the self-diagnosis of individual ECUs or an entire vehicle in vehicle engineering. It covers the entire scope of onboard diagnostics and combines the functionalities of an OBD scan tool with those of a data and bus monitor in a single tool. You can detect the type of the connected bus either automatically or select it manually. For the current available OBD modes there are various analysis functions. Measured values are updated either manually or cyclically and can be logged for the purposes of documentation or external analysis (e.g. Excel spreadsheets). Parameters can be modified via symbolic names and sent to the relevant ECU for response analysis. All communication can be analyzed down to the very last detail and if necessary be recorded both at bus level (hexadecimal raw data) and at the application layer (in symbolic representation). When used on a notebook during a test drive, the font can be enlarged in several stages on the screen.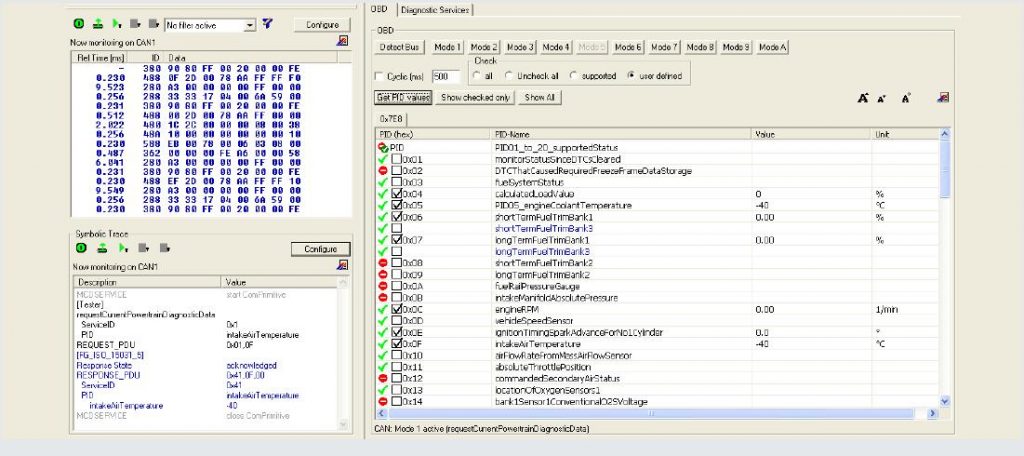 DTS Monaco Free Download:
DTS_V8_03_012_Daimler
https://mega.nz/#!p9ZDGKwS!VTn9fB80Z9-YKpV8aj9PkRXR3KinAT6RFiW13GGdOHI
DTS 8.08.021 Download:
https://mega.nz/#!RZ1AyYZS!Y_f4IPAzuYjZ7oK0vcqguO_ooo5apJ6KONCXunyXI10
DTS8.08path.txt
https://mega.nz/#!wVEhiQZQ!hK_klz4cYmnJoUuVGj8io2L9_PEbXu1l8rBGV02rTtw