1. Autel MaxiSys CV ms908cv Heavy Duty Diagnostic Scan Tool Full Configuration with all Adapters
As a new member of Autel's MaxiSys family, the MaxiSys CV is built on the powerful MaxiSys 908 platform and provides a comprehensive disgnostic solution for virtually all commercial vehicles as well as machines made in North America, Europe and Asia. Offering advanced features and extreme ease-of-use, MaxiSys CV is the ideal solution for independent repair shops, owner-operators and various sized fleets seeking a single scan tool for all their professional heavy duty needs.
Built on the MaxiSYS Android-based platform, the MaxiSYS CV performs enhanced system diagnostics on more than 60 commercial vehicle brands. Read and clear codes, view and graph live data, perform tool-guided maintenance services, complete an array of special functions and diagnose manufacturer-specific systems including Allison transmissions, Bendix ABS Brake systems, Detroit Diesel Engines and Eaton and Wabash ABS trailer brakes. 1-Year Warranty Included and we can support update online,1000USD/year.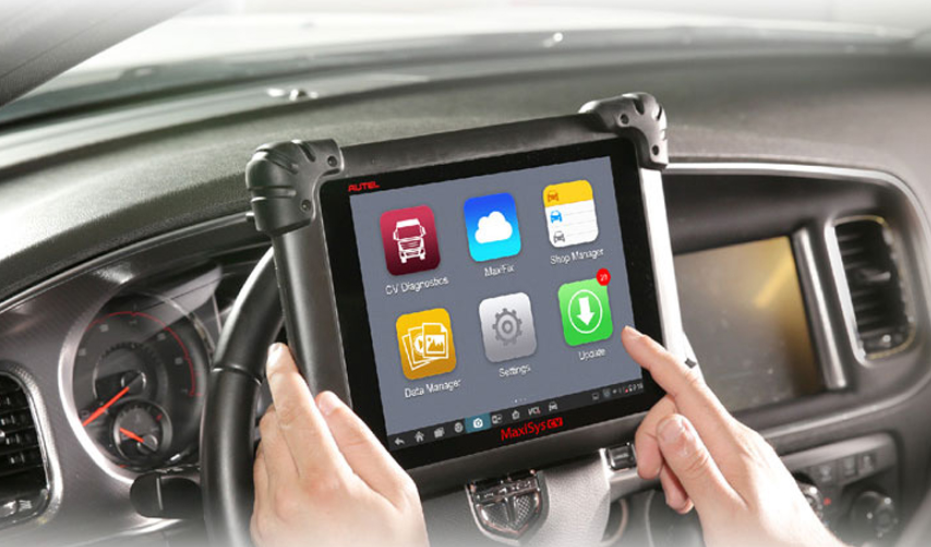 2. Autel MaxiCOM MK908P with ECU Coding and J2534 ECU Programming
Autel MaxiCOM MK908Pro is the latest member of Autel's diagnostics family, which is the advanced version of MS908P. MK908P is a professional diagnostic tool, utilizing an Samsung Exynos hexa-core processor and Android 4.4.2 OS that offers 50% increase in speed versus competing products, 10.1-inch touch screen with a resolution of 1,920 x 1200 Retina LCD touch screen. Offering comprehensive OE-level diagnostics, ECU coding and BMW & Benz ECU programming, the MaxiCOM MK908P is the perfect diagnostic solution for shops and technicians who demand unrivalled smart technology and smart repairs.
The MaxiCOM MK908P Diagnostic Platform is an evolutionary smart solution for specialized automotive diagnosis. Utilizing the powerful A7 quad-core 1.30GHz processor, and a 10.1-inch capacitive touch screen, combined with the best possible coverage of OE-level diagnostics, and based on the revolutionary multitask-capable Android Operating system, the MaxiCOM organizes information with test instrumentation to help you diagnose symptoms, codes, and customer complaints easily, quickly and efficiently.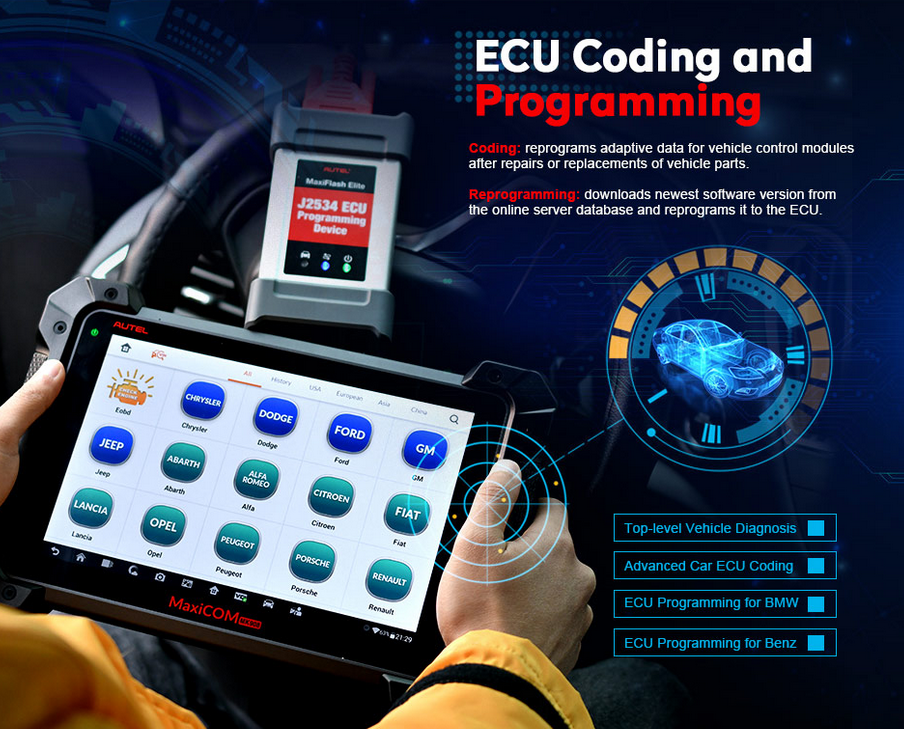 3. Launch X431 Pro3S+ ECU Key Coding Car and Truck Full System Diagnostic Tool Scanner
LAUNCH X431 PRO3S+ scanner can read DTCs and data streams, perform active test, Coding for ALL systems.1. For instance: Engines/Auto Transmission/Airbags/Immobilizer/Key Coding /ABS/Cruise Control/Instruments/ Self Leveling Suspension systems /Seats /Doors /Gateway /Steering Angle/Air Suspension/Body Systems /Electronic Power Steering & Motor Assisted /Power Steering/Tyre Pressure/Rain Sensors /4WD System/Stabilizer/Intelligent Parking Assist/Door Motors/Audio Systems/Air Conditioning /Tiptronic/Anti Theft/Soft Top/Headlamp Leveling/Central Locking /Automatic Clutch / DPF Reset/Electric Windows/Plip Programming/Heated Rear Window /Xenon Headlights/Wash Wipe/Fuel Burning Heater/Transfer Box/Seat Memory/Oil Life Service Reset/Sliding Doors/Electronic Throttle/Navigation System/Rollover Sensor /Cruise Control/ Multi Function Steerin.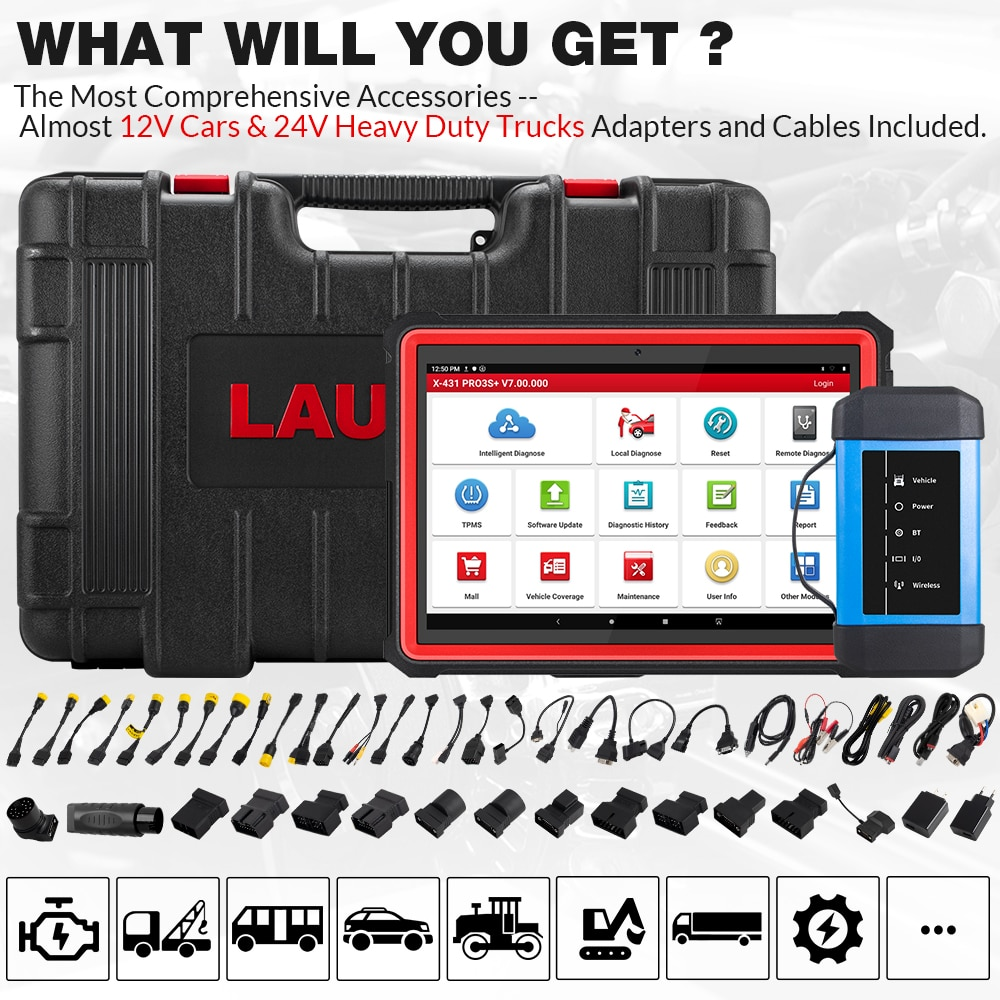 4. AUTEL MAXISYS ULTRA DIAGNOSTIC & MEASUREMENT SYSTEM With Advanced VCMI
The MaxiSys Ultra is Autel's most ambitious diagnostics tablet designed to maximize technician intelligence. It features a 12.9-inch touchscreen tablet with Android 7.0 OS powered by an Octa-core processor (2.3GHz Quad + 1.7GHz Quad), substantial 256GB built-in memory, all powering the new split-screen multi-application navigation to provide diagnostic guidance and test components to confirm repairs. Combined with the dynamic topology module mapping, enhanced AutoSCAN features and Intelligent Diagnostics options, the Ultra offers the technicians step-by-step repair guidance. The new MaxiFlash VCMI functions as a 4-channel oscilloscope, waveform generator, multimeter, and CAN BUS tester. The convenient docking station featured ensures you always have the power to scan.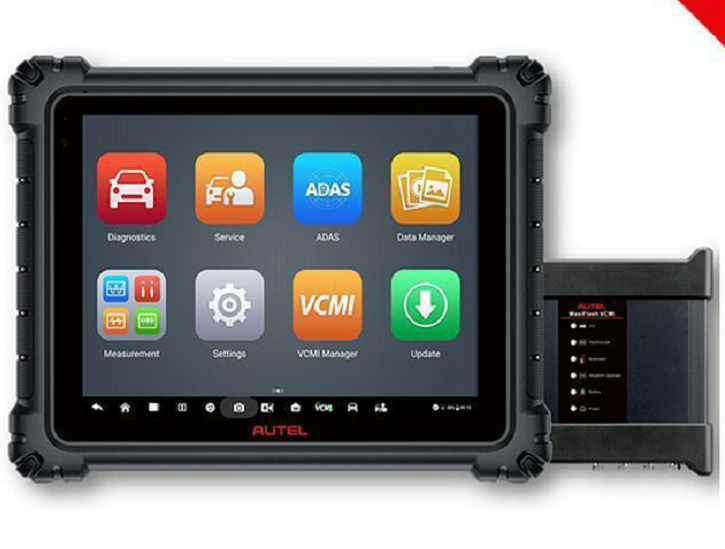 5. Allscanner VXDIAG Car Diagnostic Tool Scanner for BMW/BENZ/GM/VW/FORD/MAZDA/TOYOTA/PIWIS/Subaru/VOLVO/HONDA/JLR
VCX-DoIP is the latest generation of vehicle network interface equipped with DoIP Ethernet diagnosis technology. It integrates four major automotive industry standards into one device. It not only supports all traditional vehicle bus protocols, but also supports the latest high-speed Ethernet diagnosis protocol. It has strong compatibility. VCX-DoIP is the best device to support the diagnosis and programming of all original vehicles.