Update your Mercedes Benz Navigation, Update your Drive
Roads change every day, and drivers have to change with them. Maybe you've noticed an increase in traffic on your daily commute, or maybe a new overpass is making your pleasure cruise a little less enjoyable. Whatever the case, updating the navigation system in your Mercedes-Benz will fix it. You'll save time and money with better route guidance and get more out of every trip. Additionally, you'll be able to add stops, take scenic detours, and analyse alternative routes in real time. Best of all, all of these changes are quick and easy and can be done online!
What Changes?
Updating your navigation changes the driving experience in many ways. First of all, you'll get better route guidance when you update your maps. Commute with confidence with more accurate arrival times and optimised traffic analysis. Furthermore, you'll have brand new data on speed limits, road signs, and construction. All in all, you can count on a more efficient routing experience.
Secondly, updating your navigation will save you time and money. Mercedes-Benz technology finds the fastest route with the most consistent speeds, allowing you to take advantage of your vehicle's maximum fuel efficiency. Spend less on fuel and more on the things that matter when you upgrade your maps.
Finally, you'll be able to quickly and easily update your route during your drive. Need a cup of coffee on the way to work? Updated navigation will find the best route to both destinations. Want to see some more scenery on your road trip? Just plug in a few data points and enjoy an optimised tour of Colorado's most scenic drives.
How to Update your Mercedes Benz Navigation?
Our Mercedes Map Update Coverage
* Europe
* Russia
* Africa/Middle East
* Australia/New Zealand
* North America
* Southeast Asia
* China
* Taiwan
* Korea
* Japan
Our Mercedes Head Units Map PIN Code Supply
NTG 3.5 – w221 and w216 facelift (2009 and up)
NTG4.5 / 4.7 – w204, W212, w207, W246, w176, r172, r231, w166, w156 (pre-facelift 2011-2015), w463 (2011-2017)
NTG 5.0 / 5.2 – w222, w217, w205, w257, w447, r190, w470, W253 (all pre-facelift)
NTG 5.1 – w176, w117, w246, r172, w156, w166 (facelift 2016 and newer models), w212 (2015)
NTG 5.5 – w213 (2016+), w205, w257, w222, x290, W253, W463 (2018+)
Mercedes Map update Notes
1. Select the head unit your car has. If you are unsure, please leave your VIN (Vehicle Identification No.) inside the order comments.
2. Obtain the latest map database versions from us or from your local dealership
3. The desired map can then be downloaded to a flash storage of your choice: either remote download link or an SD card, or USB stick.
4. After downloading the map data, simply insert the stick into the appropriate HU head unit slot.
5. The update should automatically start. A PIN code will be requested from this purchase.
6. This PIN code can be instantly generated after payment in 5 mins during our working hours 9am – 9pm (HK time zone)
A confirmation email will follow, after successful map pin generation, containing the generated map pin, and troubleshooting steps.
Please note:
You are paying for one map pin update code, not map data, some of which is provided freely as a courtesy
We only provide map updates for COMAND head units. Audio/Becker Map Pilot updates are not supported.
Once a map pin was generated, a refund is NOT possible. Map pins are guaranteed to be accepted by the head unit if the parameters below have been correctly set.
Mercedes Benz Navigation Map Update Procedures
Updating the Maps on your Mercedes is relatively simple and does not require any special skills or tools. Follow the instructions below and you should have the latest map updates installed without any trouble.
Before Start
Ensure you have the latest version of the Maps' database on a USB drive. If you have opted for "Download Maps" when making your purchase, go to the link provided and download the maps. Transfer the downloaded maps to a USB drive. If you have purchased maps on a USB Drive, you may skip this step.
Make sure you have the map PIN / license key for the map updates in hand. If you have not received the map PIN as part of your package please order online via PayPal secure payment.
The update process can take up to 60 minutes to complete. Ensure you have enough fuel to keep the car running for at least this period. During this time you will not be able to use your vehicle.
Lead Time needed to complete: 60 minutes
Start your Mercedes vehicle and insert the USB into the USB slot.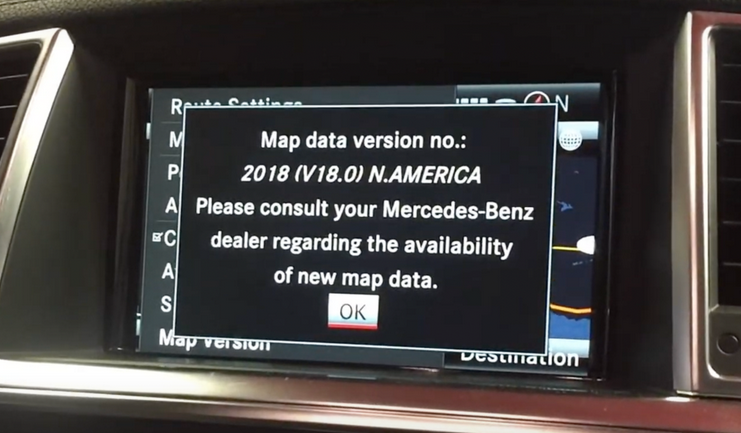 Wait 5-10 seconds until prompted for the update. The prompt will display the current Map version and Year along with the Update Map version and year.Click "Yes" to begin the update.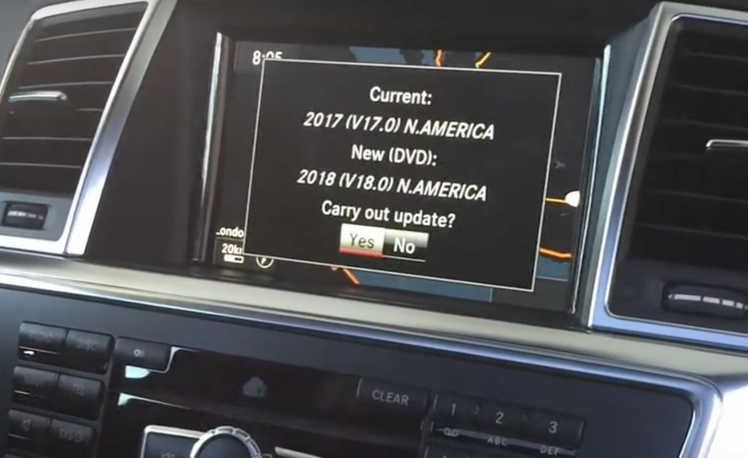 You will now be prompted for the Map PIN / License key. The Map PIN / License Key would have already been supplied to you as part of your order. Enter the Map PIN / license key.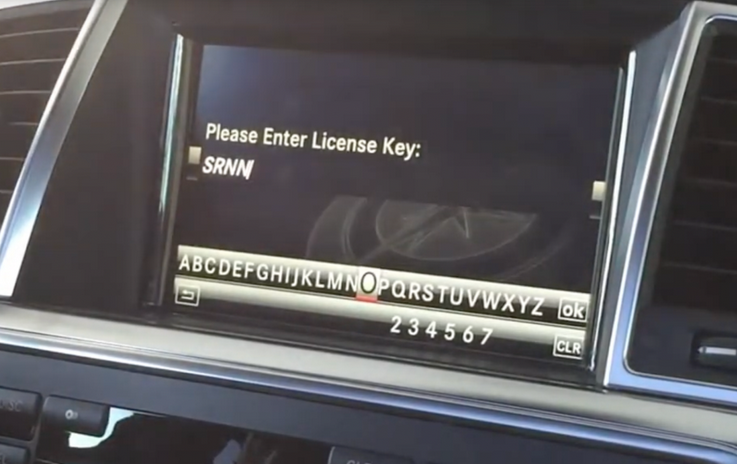 The Map Update will now begin. The process takes 30-60 minutes to complete so please be patient.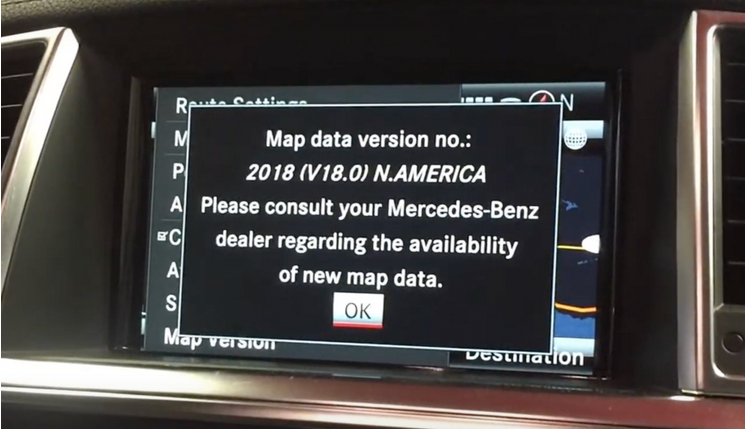 During the Map Update Processing
You must keep the car running throughout the update process. Also, keep the Command System Functions disabled while the update is running.
Interrupting the update process may potentially cause the update process to be frozen.
Once the update is complete you will see a success message. Remove the USB from the USB slot.
You can confirm the new Map version from Display.
FAQs 
What Is A Mercedes Navigation Update?
Mercedes vehicles that are equipped with OEM Navigation can be updated to the Latest Version through the use of a DVD, USB or a SD Card.
Mercedes Navigation Update offers precise routes, rich map features. many POIs: golf courses, theaters, hotels, parking lots and much more making Mercedes-Benz digital map the perfect guide to traveling through North America.
Why Should I Update My Mercedes Navigation?
The world is constantly changing around us with new roads, streets and businesses. Latest Map updates include critical, fresh details about the road network that can save time and money.
Many Mercedes owners report the inability to find addresses despite the presence of infrastructure within their surroundings. This is due to an outdated Map.
The Latest Mercedes Navigation Update will help you save on fuel and provide you efficient routing. In addition, independence from external devices such as phones and aftermarket GPS systems.
Does My Mercedes Benz Require A License Key For Navigation Update? All Mercedes vehicles 2012 and up require a License Key in order to Update the Navigation System.